Plastics have been a big deal in automotive lightweighting for quite a while. Now they are in car engines. Recycled plastics and other sustainable materials are gaining ground in cars, too, following the lead of big automakers such as Ford, but bioplastics haven't moved very fast in that arena -- until now.
The Biofore Concept Car, using biomaterials from Finnish manufacturer UPM, premiered at the Geneva International Motor Show earlier this month. Many of the components in a car that are usually made of petroleum-based polymers or composites have been replaced in the Biofore by two different bioplastics: UPM Formi, a cellulose fiber biocomposite, and UPM Grada, a thermoformable plywood-like material.
Click on the image below to start the slideshow.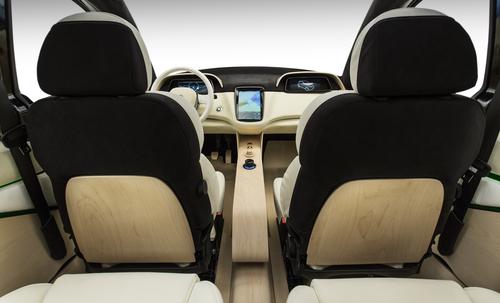 The car is not just a demo. The Biofore was created to be a street-legal city vehicle. Over the last four years, automotive engineering and industrial design students at the Helsinki Metropolia University of Applied Sciences designed, manufactured, and tested the car. It weighs about 150 kg less than a car of the same dimensions, and its 1.2-liter low-emission diesel engine runs on UPM's wood-based biodiesel fuel, BioVerno.
UPM says in a press release that its materials are made from renewable, recyclable raw wood materials that come from responsibly managed forests. Most of the car's components can be recycled. The thermoformable Grada wood material is molded using reduced amounts of heat and pressure. It's used in the car's door panels, passenger compartment floor, display panel cover, and center console. You can download a fact sheet and a carbon footprint profile here.
The company's Formi cellulose biocomposite is designed for use in injection molding, extrusion, and thermoforming. It's made of renewable fibers and plastic. It's used in the car's door panels, interior panels, side skirts, dashboard, and front mask. Up to 50% of the raw material used in Formi is renewable. You can download data sheets, guides and other documents here.
Related posts: