Driven by the need to improve fuel efficiency and safety, automakers are turning to a new blend of high-strength steels and aluminum in their vehicles. The new materials are finding their way into hoods, roofs, frames, engine blocks, cylinder heads, truck boxes, and myriad other components. And they're being used in virtually all types of vehicles, from pickups to plug-ins to performance cars.
"Every carmaker has to do it," Bart DePompolo, automotive technical marketing manager at US Steel Corp., which supplies high-strength steels to automakers, told us. "They're considering every option, every material."
General Motors has recently become a big user of advanced steels offering yield strengths as high as 1,300 MPa (217 ksi). Chevrolet's new Colorado pickup employs such steels throughout its frame; the A and B pillars get the highest-strength alloys. Yield strengths in key parts of the Colorado's frame range from 1,000 MPa (145 ksi) to more than 1,300 MPa (188 ksi). DePompolo said some automakers have even exceeded 1,500 MPa (217 ksi).
Click on the 2015 Chevy Colorado pickup below to start our slideshow.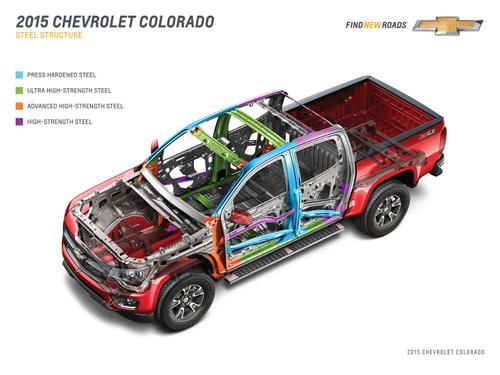 "Some of the highest-strength steels are used in the roof pillars and rockers, where you have to manage a lot of crash energy," Tom Wilkinson, a Chevy spokesman, told us. "Then you go to a little less expensive steel for the areas where you don't need quite as much strength."
One motivator for such changes is a proliferation of tougher crash standards. Automotive engineers who want five-star government crash-test ratings find that conventional mild steels (36 ksi) simply don't provide the desired results. To achieve the higher ratings, engineers selectively apply high-strength steels in the cab structures. That way, the passenger compartment is less likely to deform under load, airbags can do their jobs, and passengers can be saved during some of the worst frontal crashes.
Looming corporate average fuel economy (CAFE) standards serve as another form of motivation for automakers. As it stands today, automakers are expected to reach companywide averages of 54.5 mpg for their vehicles by 2025. Some of that fuel savings will be attained through engine innovations, such as cylinder deactivation and variable valve timing. But materials could play an even bigger role in the fuel efficiency challenge. In addition to the high-strength steels in the cab frame, Chevy's Colorado employs advanced steels in its pickup box and its box frame. Similarly, aluminum is applied to its hood, front steering knuckles, cylinder heads, and engine blocks (for both its four- and six-cylinder engines). As a result, Chevy says the Colorado 880-1,400 pounds lighter than direct competitors.
For most automakers, advanced high-strength steels are still a more likely choice than aluminum, largely because steel is still cheaper and better understood than aluminum. Ford Motor Co., which recently rolled out an F-150 pickup that makes heavy use of aluminum, told Design News that the key to using the material was its previous experience with Aston Martin and Jaguar. Ownership of those companies enabled the automaker to build a stable of CAE tools that made the design process quicker and easier. "People have asked me, 'Could you have done this 10 years ago?'" Pete Reyes, chief engineer for the F-150, told us. "And my answer is 'Absolutely, but it would have taken us eight years to finish it.'"