The push toward compressed natural gas (CNG) vehicles continues to gain momentum as major automakers unveil products and politicians voice their support for the technology.
In February, Chevrolet and Honda renewed their commitments to compressed natural gas. At the Chicago Auto Show, Chevrolet rolled out bi-fuel versions of the 2015 Silverado 2500HD and 3500HD trucks. The bi-fuel setup, which burns CNG and gasoline, will be available on almost all configurations of those trucks. Honda launched the 2014 Civic Natural Gas, which it calls the only factory-produced natural gas-powered vehicle from a major automaker.
In November, Ford began rolling the CNG-capable 2014 F-150 truck off the line in November. This vehicle, along with Chrysler's 2013 RAM 2500 CNG, has found a home in the state of Oklahoma's truck fleet.
The rollouts also have political support. Oklahoma Gov. Mary Fallin is leading a bipartisan coalition of 22 states seeking to use more CNG vehicles in their fleets. Sen. Jim Inhofe (R-OK) has called on Congress to encourage the use of vehicles that run on "America's fuel" (subscription required). President Barack Obama mentioned the importance of CNG vehicles in his State of the Union Address in January.
Automakers acknowledge that the CNG trend is a small one, but they say it's a sensible one for fleet owners who want to reduce operating costs. "They see that compressed natural gas today is running at about 40% of the cost of gasoline," Jeff Luke, GM's executive chief engineer for trucks, told us. "If you run mostly on natural gas, that's a pretty significant difference. For fleet owners, it can add up."
Click the image below for a slideshow on CNG vehicles.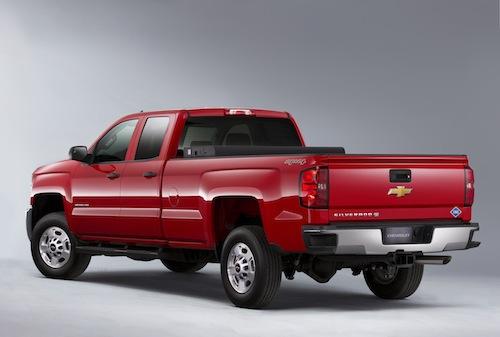 Related posts: