Machine builders looking for a way to combine multiple embedded functions onto a single hardware platform may now have a simpler solution.
Intel Corp. has developed a virtualization product that allows engineers to run separate and independent operating systems in "containers" on the same machine. Targeted at industrial and automation system designers, it enables motion controllers, human-machine interfaces, and other systems to be controlled by a single piece of hardware.
"By bringing everything together on the same platform, the system becomes more efficient and secure because all the data is residing on the same device," Tim Appleton, product manager for industrial solutions for Intel, told Design News. "Data can be shared in shared memory and between cores on the device, instead of having to go through Ethernet connections."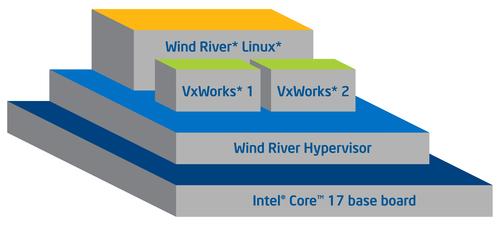 Known as the Intel Industrial Solutions System Consolidation Series, the product comprises an embedded computer with an Intel Core i7 processor and a pre-integrated virtualization software stack. The software stack combines Wind River Hypervisor, along with two instances of Wind River VxWorks, and a single instance of Wind River Linux. Together, the three products provide real-time and general-purpose operating systems, along with a partitioning methodology.
By doing the integration work and partitioning up front, Intel claims its virtualization product could save as much as six to nine months of embedded systems development work. "It saves time because you don't have to do the knitting and integration of all these components," Appleton told us.
The product is targeted at manufacturing applications, ranging from automotive to semiconductor to pharmaceutical, among others. In those applications, it could be used to develop control systems for robots, conveyors, vision, and automated assembly. Intel also expects it to be employed in oil and gas exploration and other energy-related applications.
"The benefit is we've done all the integration and validation work ahead of time," Appleton said. "All the heavy engineering is done up front."
Related posts: