The world record for a two-seat sports car tumbled last month, as a Hennessey Venom GT hit a max speed of 270 mph.
Engineers clocked the 1,244-HP supercar using an electronic data acquisition system on a 3.2-mile landing runway for the Space Shuttle at the Kennedy Space Center in Florida. (See the amazing video here.) Hennessey Performance engineers said that the car could have gone faster if it hadn't run out of runway.
"If you look at the car's acceleration curve, it was obviously getting shallower at that high speed, but we believe we could have done maybe 275 (mph)," Doug Kott, spokesman for Hennessey, told Design News. The record run was made over a distance of 2.4 miles, which allowed the Venom just 0.8 miles stopping distance.
The Venom GT is powered by a 90-degree V-8 engine that produces 1,244 HP at 6,600 rpm and 1,155 lb-ft of torque at 4,400 rpm. The car is known for its 0-60 mph time of 2.7 seconds.
Kott said that the biggest challenge for engineers was the car's aerodynamics. "We wanted to make sure it was stable," he told us. "We made the run with the rear wing retracted to reduce the overall drag force. The shape of the car's front end gave us the down force we needed."
Engineers measured the speed using a Racelogic VBOX data acquisition system. VBOX is a well-known datalogger employed for measurement of speed, position, distance, and acceleration of race cars. A Racelogic engineer was on hand for the record-setting run.
The previous world record, held by a Bugatti Veyron Super Sport, was 268 mph. That record is still recognized as a Guinness World Record, however, because it was performed in back-to-back runs, going opposite directions. NASA officials did not allow Hennessey's team to go in both directions, thus preventing the 270 mph speed from being recognized by Guinness.
Hennessey plans to build just 29 of the cars, which sell for $1.2 million each. At some point, the company would like to set a new record on an oval track, which is more conducive to higher speeds. "On an oval track, we think we could hit 275," Kott said.
Click the image below to start the slideshow.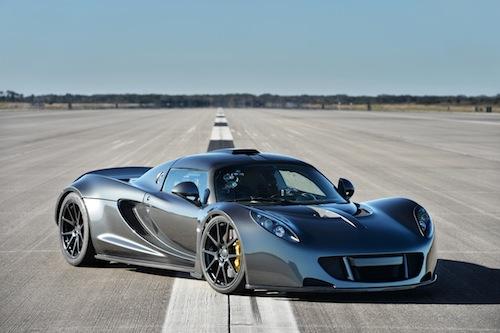 Related posts: