For decades, renewable energy was the stepchild of the energy mix used to run plants. Everyone thought clean energy was a good idea (how could you not?), but it was considered impractical, unreliable, and costly. Recent years have seen a sizable shift in that view. Between government subsidies, government mandates, and improved technology, alternative energies have elbowed their way to the big kids' table.
One recent example of the mainstreaming of renewable energy is the Honda Transmission Manufacturing Inc. plant in Russells Point, Ohio. In January, the factory became the first major automotive manufacturing facility in the US to produce a substantial amount of its electricity directly from wind turbines located on its property.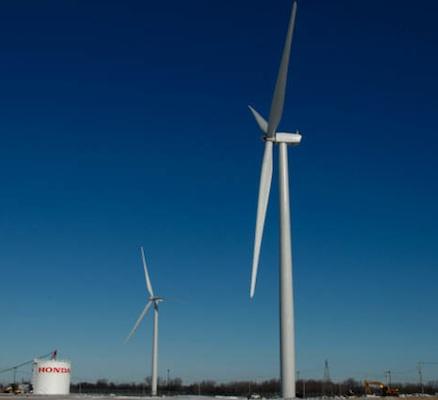 Studies commissioned by Honda Transmission indicated that wind-generated power would be a cost-effective source of electricity for the plant, and that the project would not harm local wildlife or the environment. Two wind turbines were installed to supply 10% of the plant's electricity. They are expected to produce a combined output of 10,000 megawatt hours per year.
The 160-foot turbine blades are installed on 260-foot towers on the plant's property, which is suited for a maximum of two wind turbines. Logan County officials approved a variance to the height limitation for the project.
The plant is no slouch in production volume. Last year, it produced 1.1 million transmissions for Honda vehicles, as well as four-wheel drive components that went into other power products. The plant was determined to find sources of electricity that could reduce overall carbon emission. "The impetus for the switch was in that it allows us to provide power for our manufacturing plant while reducing CO2 emissions," Eric Mauk, corporate communications specialist at Honda North America, told us. "All of Honda's plants have ongoing activities in all phases of their operations to reduce their impact on the environment, including ways to reduce energy use and resulting CO2 emissions."
The goal of reducing CO2 emissions is part of the company's internal commitment to reduce its carbon footprint. "Honda has adopted voluntary goals to reduce its CO2 emissions by 30% by 2020, and we have determined that the use of wind power helps us reach that goal."
Government incentives encourage renewables
The renewable energy industry might still be a backwater if it weren't for government incentives and regulations.
"The growth in the use of alternative fuels boils down to money," Brett Burger, senior product marketing manager for smart grid systems at National Instruments, told us. "There are a lot of government incentives, both federal and local, that encourage plants to invest in renewable energy." Subsidies are meant to kick start projects that otherwise wouldn't get started because fossil fuels are inexpensive.
Many government regulations are very specific in the proportion of energy that industrial plants must obtain from renewable sources. "Most US states have mandated Renewable Portfolio standards requiring targeted percentages of energy production be met," Chavonne Yee, director of product management for North America at ABB Group's Power-One, told us. "California requires 33% use of renewables by 2020. New York requires 29% renewables by 2015."
The use of renewable energy in the industrial market is expected to double within two years and triple within four, Yee said.