Wilocity has developed a WiGig chipset for mobile phones that will bring lightning-fast wireless capability based on the 802.11ad standard to a new range of devices, the company revealed at Mobile World Congress this week.
The company has already partnered with Dell to add WiGig connectivity -- which uses 60 Ghz frequency range to deliver 5 gigabytes-per-second speed -- to PCs and base stations. Now the company has developed a chipset for mobile devices that it will begin testing later this year with as yet undisclosed mobile handset partners, Mark Grodzinsky, vice president of marketing for Wilocity, told Design News. The company expects the first mobile phones with the chipset to be available in the first quarter of 2015.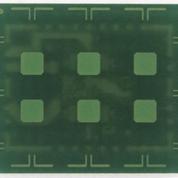 Wilocity's mobile chipset is based on the first 28-nanometer process technology for WiGig, which makes it ultra-low-power and thus suitable for mobile handsets, Grodzinsky told us. WiGig will bring to phones a number of improvements over the current 802.11 standards being used for WiFi and wireless connectivity in devices. Aside from its "raw speed" -- up to 7 gigs per second -- it also can better navigate network congestion because it is "highly directive in nature," he said.
"With traditional WiFi you have an antenna that is omnidirectional, so it also interferes with everyone else," Grodzinsky said. This creates a scenario in which WiFi can be slow or nonresponsive in crowded conference halls or other areas in which a lot of people want to get on the network at the same time. WiGig using 802.11ad on the 60 Ghz frequency allows devices to communicate directly with the network, reducing interference and providing a "massive improvement in network capacity," Grodzinsky said.
Specifically, Wilocity's chipset for mobile devices provides mobile device users with 4.6 Gbps interference-free bandwidth, which is more than 10 times faster than current mobile WiFi, he told us.
While WiGig is undoubtedly speedier and provides more bandwidth than WiFi, one limitation it has is its range, which is considerably lower. This makes WiGig best suited for point-to-point, close-range data transfer -- such as from device to device -- or for PCs and devices to connect to a WiGig base station in a relatively small space, such as an office.
Wilocity is a pioneer in the WiGig space -- the company helped develop the 802.11ad standard and is the first and still the only one to provide chipsets to support it.
Related posts: