Application Processor (AP)-based sensor management
Many new Application Processors contain integrated processing cores designed for sensor management. These offer OEMs a vehicle for sensor management on a device they already purchase, and represent the lowest cost path to implementing sensor management. Further, as they are located on the processor, they can easily be reconfigured to run different algorithms in a very time-efficient manner, satisfying the OEM and application developer desire for re-configurability.
However, these cores are often coupled to other functions in the device, increasing the amount of battery power needed to manage the sensor subsystem. AP-based sensor management can consume 6% to 10% (or more) of the device's battery, unacceptable in an era where smartphone battery life is already a chief user compliant. The power draw of AP-based sensor management was a key reason for Google's recent KitKat mandate of offloaded sensor management.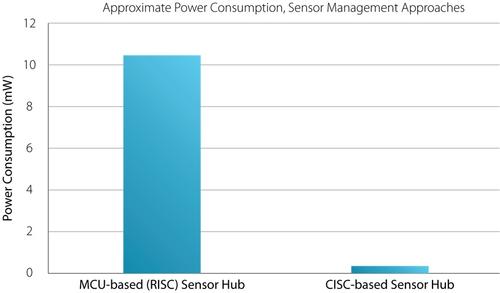 Additionally, processing overhead can often cause sensor data to be missed, delaying or even missing changes in user activity (context).
Many OEMs have already recognized the need for offloaded sensor management, and have moved to a discrete hardware solution for sensor management. This is most often done using MCUs (microcontroller units).
Microcontroller Unit (MCU)-based sensor hubs
MCUs are a familiar component of smartphone OEMs, and offer significant processing power; more than enough to run the complex sensor management algorithms. However, as with AP-based solutions, they are limited by their power consumption.
MCUs operate based on a RISC (Reduced Instruction Set Computing) methodology -- extremely short instruction sets than happen very quickly. While effective for applications requiring fast processing, one can argue that processing sensor data (which is in the Hz range) with a RISC-based MCU is not the most appropriate solution. Certainly, from a power consumption perspective, this is true.
Smartphone battery capacity today averages approximately 2,200 mAh. Translated, this means that the entire sensor subsystem must consume less than 12mW of power. An average MCU, by itself, can consume ~10mW of power, which (as shown later) is entirely too high for OEM needs.