Eddy current sensors are one of the main pillars of industrial measurement technology. The principle offers many advantages which no other technology can offer. The conventional technology is now being brought to the next generation by new developments in materials and components. This makes the use of these sensors easier, while extending the number of potential applications.
Basic eddy current technology
The eddy current measuring principle is ideal for a true non-contact sensor where fast displacement changes need to be recorded, where no forces must be exerted on the measurement object, and where highly sensitive surfaces do not allow any contact or when a long sensor life is required in harsh conditions.
This technology can be used with any conductive target.
The sensor coil is housed in a stainless-steel or ceramic body, allowing measurements in dirt or dust contaminated environments, as well as in humidity, oil, and under pressure.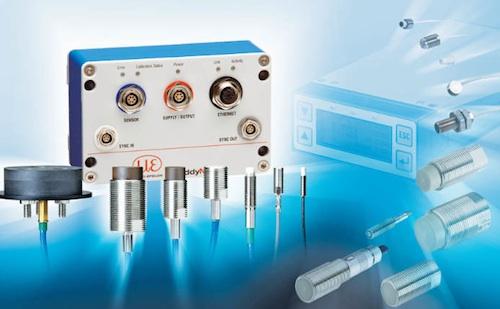 However, the use of eddy current technology is subject to some limitations. For example, individual linearization and calibration are necessary for each application. The output signal depends on the electrical and mechanical characteristics of the measuring object, as well as the temperature.
Using state-of-the-art technologies, as well as proprietary temperature compensation, Micro-Epsilon's eddyNCDT measuring systems achieve extreme high accuracy -- down to a few tenths of a micrometer even under the harshest conditions.
Embedded coil technology
Conventional eddy current sensors operate with an air-core coil.
Eddy current sensors operate with carrier frequencies ranging from 100 kHz to 5 MHz. With their cut-off frequencies of over 100 kHz, they are ideal for recording fast measurement changes. The ECT eddyNCDT sensors do not use a conventionally wound coil. Instead, an extremely flat coil is embedded in an inorganic material in a way that yields maximum stability in mechanical form and in respect to temperature variations. Entirely new geometrical designs and sizes can be created with these sensors. The new eddyNCDT ECT sensors are typically of a special design to fit a unique application.
ECT sensors are extremely temperature-stable due to their inorganic carrier material and they are suitable for applications at up to 350C. Applications in ultra-high vacuum (UHV) and strong electromagnetic fields have already been successfully implemented with very high levels of precision.
One of the first applications involved aligning the mirror segments on the LAMOST, China's largest reflecting telescope. There, 70 mirror segments are aligned to each other with sub-micrometer precision by means of 600 eddyNCDT ECT sensors. The decisive factor here is the high temperature stability, which is necessary when the roof of the observatory is opened at night. Another application example is the successful series production use in machine monitoring -- with nanometre resolution -- in the semiconductor lithography.