Another major benefit is the very high mechanical stability, since the coil is embedded directly in the carrier material. For example, a sensor has been developed for measuring grinding gaps of refiners in the paper industry that can withstand the high vibrations encountered during long-term operation.
The geometric nature of the sensors is also extremely flexible. The sensor can be adjusted according to customer requirements. It can be embedded with the electronics.
Eddy current sensors with memory
Eddy current sensors are now also smart and equipped with memory. An integrated EEPROM stores the most important characteristics. If a sensor needs to be replaced, a simple 3-point calibration is all that is needed for optimization. The controller automatically receives all the fundamental data from the sensor. At the factory, all sensors are matched to ferromagnetic and non-ferromagnetic targets. It is not necessary to define the target precisely in advance anymore. The new series, called eddyNCDT 3100, includes a compact controller and matching, innovative sensors. The housing of the controller with its DIN rail ("top hat") mounting is made of solid aluminium and in protection class IP65. The device itself has no operating controls. All settings are made via the Ethernet interface, by a Web browser, which is independent of operating system, so that no special software is needed. A key benefit is that the sensor can be easily replaced in any application where a variety of sensors with different measuring ranges are used on differing target materials.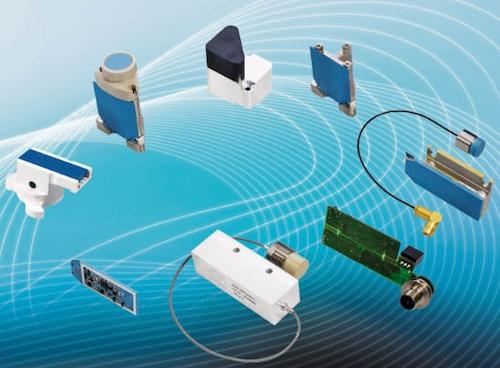 A cousin of the eddy current sensor
The new magneto-inductive displacement measurement procedure has been further adapted for industrial requirements. The mainSENSOR measures the distance between a target magnet and a sensor element. The magnetic field lines of the magnet meet at a specific distance with the field of the coil from the sensor element. The further the sensor element and magnet are apart from each other, the lower the influence of the magnetic field for the embedded coil inside the sensor. This combined effect of eddy current and magnetic principle is used for calculating the distance. To obtain a linear signal form, the magnet must move along the sensor axis, only then will it be possible to achieve the necessary correlation between the magnetic field strength and change in distance. The principle behind the sensor is based on extending the range of an eddy current sensor by adding a magnetically sensitive element. These two physical effects yield a linear relationship between distance and output signal.
The special feature of this principle is the large measurement range of up to 55 mm and the high dynamic range. Very fast movements such as vibrations can be detected at large distances. A new addition to the product group is a sensor in an M18 and M12 stainless-steel housing, which takes up far less space than the standard model in an M24 enclosure.
Martin Dumberger is managing director, Micro-Epsilon America.
Related posts: