In a further step toward putting automation data at the control engineer's fingertips, GE Intelligent Platforms has released QuickPanel+, an operator interface that takes the embedded data historian and connects it to a touchscreen. QuickPanel+ is designed to be a general-purpose interface capable of connecting to a variety of industrial PLCs and PACS. The goal was to provide faster processing speeds and more memory while delivering a view of control information and historian data in a single device.
In the spirit of giving industrial users the ease of a consumer product, GE uses capacitive touchscreen technology to make the device as responsive as a tablet or smartphone while it's still designed to be robust enough to withstand industrial environments and applications –- even for the user wearing gloves.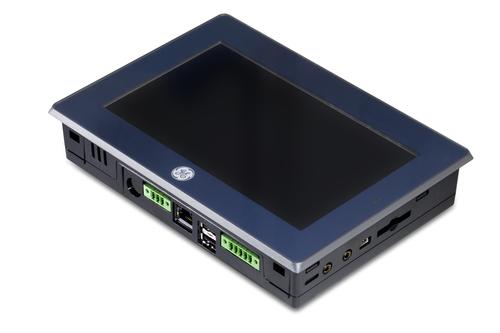 Just as smartphones and tablets are competing function against function, automation interfaces have also become a competitive field. Plant operators are beginning to expect their work devices to match the intelligence of their home devices. "Customers want better intelligent machines, to operate them smarter, and redefine the interaction with their equipment," Bernie Anger, general manager of Control & Communications Systems at GE Intelligent Platforms, told Design News. "The operator interface is a pivotal point in this connected architecture where people and machines interact."
GE created QuickPanel+ to be a single solution for controlling, viewing, and understanding past and present plant performance. The multi-functional device combines the ability to view machine status with the ability to control the machine. The interface can also run a data historian, bringing plant performance data right up to the control functionality.
Anger said the device runs on a Windows operating system that can also draw on multi-media resources within the plant as well as resources on the Internet. "QuickPanel+ is available on the Windows Embedded Contact 7 operating system providing users a fully functional browser and multimedia support for assets like training videos on-demand," he told us.
Anytime you connect to the plant network with a device that also connects to the outside world, security is a big issue. "With QuickPanel+, we have worked extensively to make our product secure," said Anger. "Features like password authentication, role permissions, hardening of the OS to stop unwarranted traffic, and disabling unessential services by default helps makes QuickPanel+ more secure. In addition, we are taking it through Achilles testing." The Achilles Test Platform from Wurldtech Security Technology is a cybersecurity and communications robustness testing appliance for connected devices that finds known and unknown vulnerabilities, allowing faults to be reproduced, isolated, and identified.
QuickPanel+ is available now in 7-inch and 12-inch screen formats. Other screen sizes will become available early this year.
Related posts: