One of the afflictions people with diabetes suffer from is diabetic peripheral neuropathy (DPN), a condition of nerve damage especially in the feet and lower extremities that causes numbness and often-chronic pain.
Until now, people suffering from DPN -- which has no definitive cure -- treated it by using pain medication to manage their symptoms. Now, thanks to a device from NeuroMetrix, people with DPN can manage their pain with a strap-like device they can wear when performing everyday activities instead of using pharmaceuticals, Tom Higgins, CFO of the Waltham, Mass.-based company, told Design News.
The Sensus Pain Management Device is a wearable plastic device with a band that looks similar to a device used to measure a person's heart rate when performing a cardiovascular activity. It is worn around the top of a person's lower leg and provides electrical stimulation to the nerves in the lower extremity that have not been affected negatively by DPN, Higgins said.
"There is an electrode you snap into the underside of the device with conductive gel pads," he told us. "The device itself produces an electrical signal through the gel pads through the skin -- it's like a buzzing."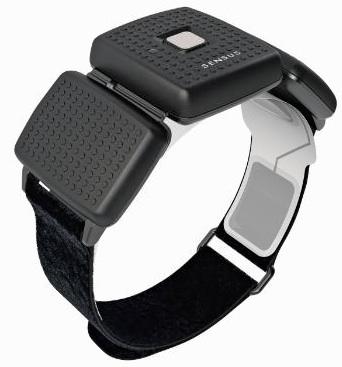 The effect of the electrical stimulation is to activate the same naturally existing opioids in the human body that occur whenever someone sustains traumatic pain, such as from an accident, Higgins said. These opioids prevent a person from feeling as much pain as they might when an injury is sustained. To combat DPN pain, their release effectively blocks the pain people would normally feel from nerve damage, Higgins said.
"The principle on which this works is that by providing electrical stimulation to your good nerves in your lower extremity, you can block pain signals from your deteriorating nerves," he told us.
To set up the device to effectively manage pain, users of Sensus need only place the device, push a button to turn it on, and then press the same button again when they start feeling pain. They do this a few times so the device knows how to calibrate the electronic signal to their nerves to a specific user's pain levels, Higgins said.
The device works for one hour at a time, "gradually but imperceptibly" increasing the stimulation to the nerves. If a person is still in pain after an hour of using the device, he or she can activate it again by pressing the power button.
Doctors can prescribe Sensus to patients either in place of drugs or to supplement the use of them to help manage DPN pain, Higgins said, but the device does not have some of the side effects that are associated with many pharmaceuticals.
NeuroMetrix has been offering medical devices since 1996, mainly focused on developing devices used to stimulate and measure nerve response for the diagnosis of nerve-related conditions and diseases, Higgins said. However, a few years ago the company turned its focus solely to diabetes -- specifically DPN and nerve-related aspects of the disease -- seeing a need for device-specific diagnosis and treatment of this disease.
Prior to releasing Sensus in the first quarter of 2013, NeuroMetrix began offering in 2011 the NC-Stat DPNCheck, a diagnostic device that can scan a person's nerve to diagnose deterioration and possible DPN.
NeuroMetrix also has more plans to improve and expand the functionality of the Sensus device, Higgins told us. "We think there is quite a lot of potential for development," he said. "We're working on changes to the form factor that will make it thinner and more comfortable to wear. We're also working on some electronics related to electrodes so the time period you can use [the device] is better controlled and better known."
Related posts: