Other emerging trends include using variable frequency drives (VFDs) to control induction motors, as well as PM motors, DC brushless motors, and synchronous reluctance motors (SynRMs). Many of the requirements are coming from standards being imposed on OEMs to improve the energy efficiency of their equipment. Semrow says ABB is receiving more requests to control induction motors, as well as other higher-efficiency motors.
There is also a long-term move toward a universal drive and ultimately one product that would support all motor controls. That is the general direction that ABB is moving, and the ACS355 (which replaced the ACS350) can control both induction motors and permanent magnet motors.
From ABB's point of view, rather than one drive that supports induction motors and another for controlling PM, the long-term goal is one drive product line.
Firmware is needed to make this possible, but these control options also usually require additional hardware, so there are product costs for each variant. The goal is to develop product lines that will support different controls, but those will not be the lowest-cost solution.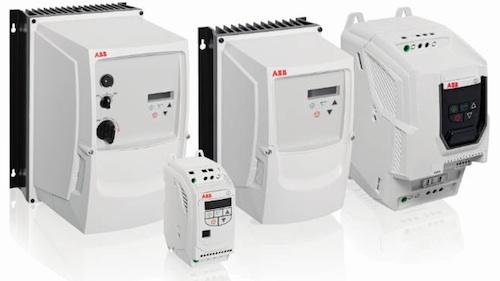 Drive networking integration
An area related to integration is use of field buses and network communication.
In the past, it was the norm to use discrete wires to control drives, but today it is approaching 50/50 where customers are instead using a field bus or Ethernet-based protocols such as EtherNet-IP, Modbus TCP, Profinet, or EtherCAT.
There is also a move to multiprotocol Ethernet support options in drive products to support several networking protocols, which is possible because Ethernet protocols often use the same hardware. This enables the user to select among popular Ethernet protocols without the need to select a specific drive product that supports individual communication options.
This approach simplifies the process for distributors, but the complication is that fixing a software glitch that affects one of the protocols, could affect all three of them. Rather than an option card that supports Profinet, EtherNet/IP, and Modbus TCP, ABB has a new approach so that an option for a high-performance drive is also the same that is used on a microdrive. One option covers all of the drives, and makes it easier for the integrator.
Focus on flexibility
"The Simotics FD [Flexible Duty] design reflects a growing trend and development of low voltage motors that offer higher power, and use of frequency converters in different applications," Oscar Palafox, US product manager for IEC Low Voltage Motors, told Design News.
"This is more applicable now to midsized frames between 200 kW and 1,600 kW."
One factor that motivated the Simotics FD design is the type of cooling available in those motor size ranges. While the normal standard is totally enclosed fan-cooled motors or air over motors, the bigger trend today is use of water-cooled motors, which enables higher temperature operation and use in environments where the air doesn't allow for adequate cooling. Water-cooled motors are also ideal for mounting motors in tight spaces such as ships and mines.
Palafox told us the most unique aspects of the Simotics FD design are related to its flexibility, modular design, efficiency improvements, and lower noise emissions.
One example of increased flexibility is that the cooling system uses the same type of frame handling for different types of air- or water-cooled systems. To provide motor cooling, applications can be forced-air-cooled, which are mounted in the back of the motor, on the top, or on the side of the motor. Plus, solutions can be air-to-water or jacket-type cooling where water is flowing inside the motor.