AM is also used to extend product life and repair damaged in-service components. For example, the Anniston Army depot, in Huntsville, Ala., utilized AM technology to repair engine components for the Abrams M1 Tank. Operating in a desert environment, M1 Tank engines, such as the Honeywell AGT1500, were experiencing extreme amounts of wear and tear, requiring shorter maintenance cycles. The AGT1500 engine components were difficult to repair with traditional methods, due to distortion effects caused by the high-heat welding process. With AM repair, a highly focused laser beam is used to deliver energy and powdered metal exactly to the repair area, reducing the Heat Affected Zone (HAZ) and enabling repair of these engine components.
Repairs of turbine engine components are typically performed on areas of the airfoil that have suffered wear damage, such as the tips, or on areas not subject to significant fatigue loads, such as certain leading-edge portions of compressor blades. As trends in component design move toward Integrally-Bladed-Rotors (IBRs) or "blisks" to reduce weight and improve engine performance, repair of these components becomes a critical issue. In a conventional blade/disk, if one blade in the stage is damaged or worn, it can be replaced at a reasonable cost.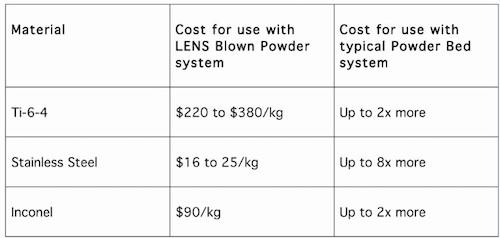 However, if one blisk airfoil is damaged or worn, the entire stage must be replaced, at considerable cost. Projected production costs for blisks are from $100,000 up to $500,000. Therefore, the challenge is to develop an effective repair technique guaranteeing that all airfoils can be repaired. After years of process development and independent testing by leading aerospace manufacturers, AM has emerged as the preferred solution for material addition for blisk repair.
As a result of the breadth of AM applications, industrial interest in the technology is growing rapidly. Processes are being developed and qualified in numerous industries including aerospace, defense, power generation, and medical devices. Powder methods are by far the most commonly used for metals 3D printing. There are metal AM systems that use wire feedstock. These can deposit material at a faster rate than powder-based systems, but a high-power heat source is required to melt the wire, which can increase distortion.
The two most commonly known powder AM technologies for building metal parts are "Powder Bed" and "Blown Powder." Each has its advantages. In Powder Bed systems, a laser selectively melts a bed of metallic powder layer by layer to build up the physical part. After the first layer is spread and sintered, the bed is filled again with a second layer of powder and selectively sintered. This process is repeated until the part is fully formed. The end result is buried in the powder cake and is not visible until the excess powder is removed. In Blown Powder systems, the process continuously blows powder through nozzles directed at the focal point of a high-powered laser, or other heat source such as an electron beam. The resultant pool of molten metal is then moved using a motion-control system and the part is built up in free space. The entire process is visible as the part is grown layer by layer.
The Powder Bed method is better at building smaller, more complex parts. It produces a better surface finish. The Blown Powder process is better at adding material to existing parts (as in repair or hybrid manufacturing) and building larger parts. It produces parts with superior mechanical properties. For building small metal components, Powder Bed machines can be used in many cases, except if a functionally graded material is required, or if the desired material is one not commonly processed by Powder Bed systems. For building large parts or repairing worn or defective metal components, Blown Powder machines such as those offered by Optomec should be considered.