Audio applications ranging from automotive headsets to home speakers may get a boost from a new processor that packs three times as much signal processing capability in a package that's about half the size of its predecessors.
The new digital signal processor (DSP), developed by Analog Devices Inc. (ADI) and demonstrated at last week's Consumer Electronics Show (CES), could cut costs and reduce board space for developers of automotive infotainment systems and consumer audio systems. "The smaller it is, the less board space it takes up, and the smaller the end product can be," Denis Labrecque, business development manager in signal processing for ADI, told Design News. "It lets the product developer use a less costly power supply and fewer components around the power circuit."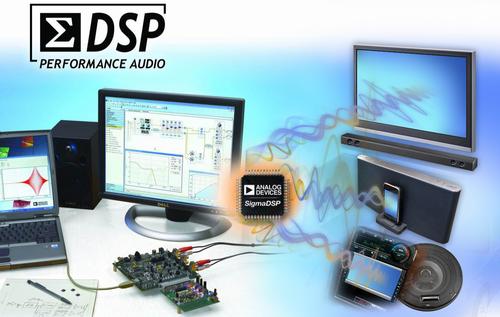 At CES, ADI demonstrated the ADAU1452 SigmaDSP on an evaluation board, linked to a music source and a pair of low-cost speakers. Using the DSP for post-processing, engineers demonstrated how audio performance could be improved, even on an entry-level consumer-grade audio system.
Because the new processor enables an audio system to execute up to three times more processing algorithms, it could allow designers to eliminate processor chips. ADI engineers said that in some cases, users were previously employing two or even three such chips in an audio product. "This allows some of those customers who had two or three devices to go back to having a single chip that does it all," Brett Gildersleeve, ADI applications engineer, told us.
Engineers can employ the ADAU1452 SigmaDSP processor in a wide variety of audio applications, including automotive infotainment amplifiers and head units, consumer speakers, and professional audio amplifiers and mixers, ADI said. The new DSP chip also works with the company's existing graphical development programming tool, known as SigmaStudio. "It puts control of the programming in the hands of the audio designer, instead of the programmer," Labrecque said.
Related posts: