Part of the promise of the smart home is the ability to program and customize systems in your house, even if you're not there. To that end, Bellatrix Systems has invented the bRight Switch smart home electrical switching system, which lets people program their lights and other devices in various rooms of their house from a touchscreen interface on their wall.
The system also is WiFi-enabled and connects to an application on Android or iPhone mobile devices, allowing people to access it and change settings remotely.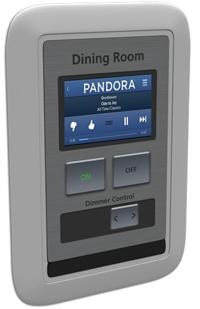 Ray Lundy, Bellatrix's chief operating officer and general manager, said in a September press release about the new system:
bRight Switch's mission is simple: to improve the way we power our lives. For decades, computers and mobile phones have continued to evolve through significant technological advancements while we've been stuck with the same antiquated switches and high voltage electrical outlets. bRight Switch replaces bulky wall chargers, timers, nightlights and even specialized switches with easy-to-use, multi-functioning, modular units.
The bRight Switch solution features three products: the nLine Switch, the eLine Switch, and the eLine Outlet. They replace current switches and outlets with smart devices that incorporate high and low voltage, wireless connectivity, and powered faceplates, which provide myriad potential applications, according to the company.
The nLine Switch -- the most sophisticated of the products -- is an Android-powered device with a wall touchscreen interface that allows users to perform many of the functions they would perform with a regular Android smartphone. For example, people can access Android applications to speak with people over Skype or play music from sites such as Pandora.
They also can customize the interface for different rooms and set lights to switch on and off at certain times. For example, lights can be set to turn on when the alarm clock goes off. Another key feature of the nLine Switch is that it learns from someone's habits and can preprogram itself. If someone arrives home every day at a certain time and turns on the lights, the switch will begin turning on the lights at that time automatically without extra programming.
The eLine products provide less functionality than the nLine switch but still have some smart home features. The eLine Outlet can wirelessly connect to the rest of the system and features plugs for electrical devices and USB devices. The eLine Switch (also WiFi-enabled) connects to the larger system and can be programmed to link to other outlets for custom light-switch timer programming.
The bRight Switch system is available now. The nLine Switch priced at $96, the eLine Switch at $40, and the eLine Outlet at $26.
Related posts: