One of the trends in industrial robotics is to create machines that can more intuitively and carefully handle tasks as humans might. To that end, ABB Robotics has introduced a set of software features called Integrated Force Control that makes robots more intelligent and able to handle process variations in a similar way to humans.
"Some robotic applications require the robot to be able to sense the proper amount of force to exert at different times during a certain, much like a human would in sanding a piece of wood or using a file to clean a piece of metal," Alex Miller, an ABB project manager, told Design News, in an email. "ABB force control technology makes robots more intelligent and able to handle process variations with real-time external inputs -- much like a human would when handling a delicate item or precise dimensions."
The software is a consolidation of discrete features that were previously available in ABB's machining or assembly Force Control offerings. It's aimed chiefly for use at robots in an industrial assembly or packaging scenario.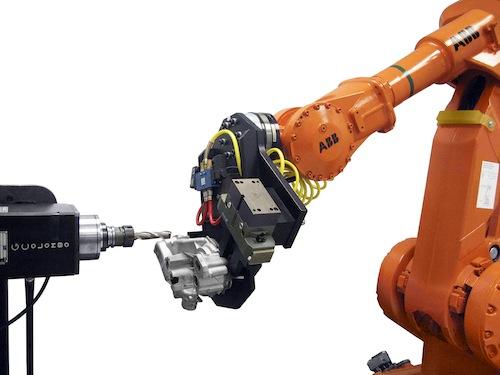 Key to the new technology package is tactile sensing technology that provides feedback from a force sensor, giving the robots the ability to react to their surroundings and change their programmed path or speed, Miller told Design News. The technology also enables robots to mimic the motions of a human arm to find the correct position to assemble a part, following edges and contours of items precisely regardless, he said.
"[The technology] enables the use of robotics in applications where they may not previously have been able to perform the required tasks," Miller said. "Robots are more flexible than 'hard (fixed) automation' and are often less expensive. Expanding the tasks that robots can perform gives companies greater flexibility to handle a wider variety of parts."
Specifically, ABB's Integrated Force Control can be used to enhance a varied array of robotic machining applications such as grinding, polishing, deburring, and deflashing. For example, one of the technology's packaging features allows it to grind, polish, or buff parts while maintaining a constant force between the tool and the work piece.
Most ABB robots are now available with Integrated Force Control, from the small to midsized up to the largest, Miller added.
Indeed, there is an increased need for this type of sensing intelligence in robots in manufacturing scenarios, allowing them to better react to their surroundings and interact with parts and items in a more intuitive way. Rethink Robots' Baxter was designed from the outset with these features in mind, and now other industrial robots are being designed or retrofitted with similar technology.
ABB's Integrated Force Control comes loaded on the company's hardware and software, and includes protection against overload and EMC. The technology is certified to IP65 and suitable for high precision robotic applications, and features a compact and lightweight design.
Related posts: