Imec is offering a new ultra-low-power Bluetooth Smart radio that can consume less than a fifth the power of current competitive products, and also features a low-memory footprint.
The Bluetooth Smart compliant 2.4 GHz short-range radio -- which Imec co-developed with its open-innovation lab, Holst Centre -- is well suited for a host of wireless sensor applications, such as heart monitors, interfaces such as styluses, smart watches, smartphones, as well as sensors that take temperature and other atmospheric readings, Harmke De Groot, program director, Ultra Low Power Circuits, at Imec/Holst Centre, told Design News in an email.
These types of sensors, which generally should consume as little power as possible so their batteries or power sources don't need frequent replacement, are the foundation of the Internet of Things (IoT), in which myriad devices and everyday items or household appliances will communicate with each other via radios like this one.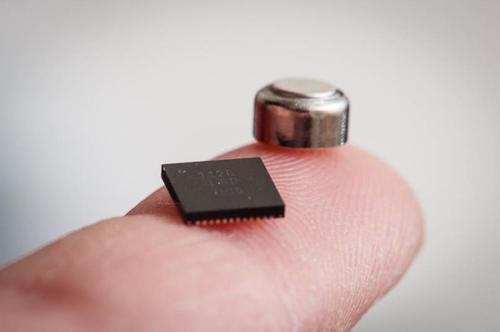 Currently, Bluetooth Smart (formerly Bluetooth Low Energy) is emerging as one of the leading wireless protocols for these sensors and devices, alongside WiFi and Zigbee. ABI Research in London said that Bluetooth Smart will lead in shipments and WiFi will lead in revenues in the healthcare device intelligent component market, which is expected to exceed $100 million by 2018.
Just as the devices will consume little power, so should components like wireless radios, which tend to draw a lot of energy from the overall device, De Groot said. "Lower-power components are needed to further miniaturize devices, have a longer lifetime, and/or add functionality to sensors and small battery-operated devices like watches, glasses, mobile phones, integrated cameras, hearing aids, etc."
For sensor nodes the wireless system usually is 50 to 85 percent of the overall power consumption of a system, De Groot said. The new wireless radio from Imec and Holst Centre consumes two to ten times less than power than that, depending on other factors in the system, he told us.
The new short-range radio -- which uses a 1.2 V battery -- achieves a DC power of only 3.8 mW at 1.2 V supply for the receiver and 4.6 mW for the transmitter, according to Imec. The measured receiver noise figure is 6 dB, resulting in a sensitivity of -98 dBm for Bluetooth Smart, the company said.
The radio is integrated with software from Wicentric that includes exactLE Link, a portable and efficient Link Layer for Bluetooth Smart, and Wicentric's exactLE Stack and Profiles. This software is designed for efficient execution on low-power CPU cores running at low clock speeds, making the radio well suited for ultra-low-power system-on-chip silicon designs, according to Imec.
The radio and software together also boasts a small memory footprint, the company said. For example, for a heart-rate sensor running an ARM Cortex-M0 CPU at 12 to 16 MHz, it can be as low as 45 kilobytes.
Related posts: