Automation & Motion Control
Do you think of fluid connectors as nothing more than a secondary design consideration? Think again.
Connectors can give a significant boost to the performance and safety of devices and equipment employed in fluid-handling processes. What's more, connectors are the primary touch points for the end users of a fluid-handling product, which means they have a major impact on perceptions of the product's user friendliness. The right connector choice can also prevent contamination and eliminate connection errors that can cost big money -- or even lives.
So the stakes are high when selecting these low-profile components, which allow flexible tubing to be quickly and safely connected and disconnected in a wide range of life science, chemical-handling, and specialty industrial processes. Today, specialized couplings can also create sterile connections, prevent drips when disconnected, simultaneously transfer fluid and electrical signals, and even wirelessly exchange data.
With so many options for connecting tubing, and so much riding on the choice, it's crucial to have a selection strategy that will yield the best connector solution for your fluid-handling application. Here's a three-step strategy developed to do just that. In following this strategy, you'll thoroughly analyze the connector application, weigh the available material choices, and consider connection capabilities that go beyond those offered by conventional connector options.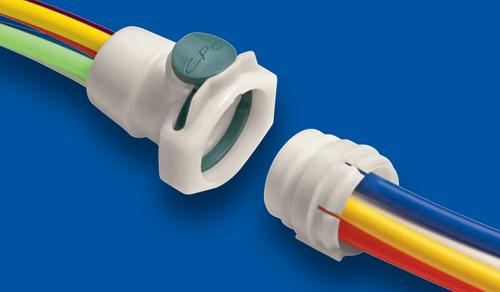 Define the functional needs of the application
The functional needs of an application determine the parameters for tubing and connectors. For example, do these needs involve just flow and operator convenience or the added issues of media compatibility and cleanliness, as well? The application will also dictate whether the tubing and connectors should be disposable or reusable, as well as whether valves are required.
The following application factors will help you determine the necessary connector functionality:
Flow requirements: When determining the flow requirements of an application, the inner diameter (ID) of the tubing should probably be the first consideration. Consult flow charts for different diameter tubing, and select the size that will deliver the flow needed at expected operating pressures. Also bear in mind that flow may be reduced slightly by inline components such as connectors, valves, and filters. Pressure drops across components vary by manufacturer, with some designs producing less turbulence and resistance to flow than others. Once the tubing ID has been determined, choose a connector or valve design that provides the greatest flow with the least pressure drop.

Media effects: Whether the connector is made of metal or plastic, it needs to be compatible with the media being transferred. Air and water are commonly used media and are fairly simple to evaluate for chemical compatibility. Others, however, can be more difficult to evaluate due to their combinations of ingredients. Examples of this type of media include IVD reagents and inks used in printing applications. Reference materials can help to narrow down the material choice, but testing may be required to evaluate the effect of some media.
Temperature and pressure: In addition to the range of application temperatures and pressures, consider the temperatures the connectors may be subjected to in storage or shipping, which may be outside the range the connector may encounter in use.
Termination type: Connectors are joined to plastic tubing using a variety of terminations: hose barb, compression fittings, push-to-connect, and more. Connectors with multiple well-made barbs (featuring sharp edges and free of parting lines) provide a secure connection over a wide range of tubing styles and materials. Single-hose barbs work well with softer tubing such as silicone rubber. For stiffer tubing materials like reinforced PVC and harder plastics, however, the ID of the tube may not sufficiently relax around the barb to form a tight seal and require multiple, sharp barbs to seal and provide adequate pull of resistance.
Valve options: Connectors with integral valves create a cleaner and safer connection, eliminating the need for clamps and secondary shutoff valves, and enhancing the overall perception of the device or equipment. Valved connectors prevent spills upon disconnection, as well as the entry of air into the system. There are many styles of valves, with varying flow rates and pressure drops. Integral valve types include poppet and flush-face styles that allow completely dripless disconnections that may be required to protect the user from hazardous media.
Mounting options: In some applications, a connector is mounted to the back, side, or front panel of a machine or enclosure. For cases like these, some suppliers offer panel mount and/or pipe thread options to securely mount to the device. In these configurations, using an elbow as the mating connector may provide a distinct advantage. Why? If a connector mounted on the front panel of a chemical analyzer includes a 90-degree elbow, for example, the tubing can be easily routed down the face of the machine, eliminating unwieldy tubing loops that take up extra space and detract from the appearance of the installation.



A researcher from The Ohio State University has designed objects that harness vibrations from the movement of swaying buildings or bridges to provide alternative energy.
Oak Ridge National Laboratory has developed a carbon fiber production method it wants to share with you: a faster, cheaper, greener method for manufacturing industrial-grade structural carbon fiber.
This slideshow includes several versions of multi-materials machines, two different composites processes including one at microscale, and two vastly different metals processes. Potential game-changers down the line include three microscale processes.
Members of the IEEE Computer Society name cybersecurity as the top technology affecting their industries.
Hosted CAD or PDM systems is an emerging technology that offers many advantages over traditional on premise workstation CAD configurations and is making many companies rethink how to deliver future CAD software solutions.

Focus on Fundamentals consists of 45-minute on-line classes that cover a host of technologies. You learn without leaving the comfort of your desk. All classes are taught by subject-matter experts and all are archived. So if you can't attend live, attend at your convenience.