Hybrid vehicle engineers may now have a way to do hardware-in-the-loop simulation testing, instead of physical dynamometer testing, on the electric motors that propel their cars.
A new Electric Motor Simulation Toolkit announced last week enables them to do the tests, gather data, analyze data, and generate a report, all in a single computer environment. By doing so, it provides an alternative to more costly dynamometer or field testing.
"Up to now, the technology hasn't been there to do hardware-in-the-loop testing," Nicholas Keel, product manager for National Instruments, told Design News. "But with advancements in FPGAs (field programmable gate arrays), engineers can now go back to the lab and do hardware-in-the-loop testing, instead of having to do everything on a dyno."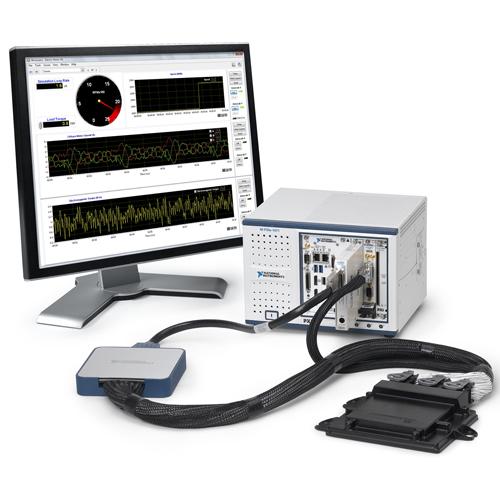 National Instruments' new solution employs the company's NI Veristand 2013 hardware test tool, along with models of switched reluctance and permanent magnet synchronous motors. Using the technology, engineers can gather data at the very high frequencies associated with electric motor control. Through a tight coupling to the company's DIAdem software platform, the system can also analyze the data and generate a report on it. "DIAdem takes all the data you're creating and makes it palatable, so a manager can make a decision with it," Keel told us. "So when you run a test, instead of just generating a massive data file, you're creating a report."
The new motor toolkit could turn out to be important for hybrid vehicle engineers because, for the first time, it offers them the ability to do hardware-in-the-loop testing of electric motors, Keel said. Unlike internal combustion engines, the motors for hybrid electric powertrains require very high-speed data gathering. "What makes hybrids so challenging is that the ECM (engine control module), instead of doing 1,000 or 2,000 updates per second, has to do 250,000 updates," Keel told us. "The signals that control the electric motors are coming at you much, much faster."
In the past, National Instruments' processor-based simulation systems didn't have the requisite speed to handle the huge amounts of data associated with electric motor testing. But by employing FPGAs, the newer systems jump from the kilohertz range to about 80 MHz, Keel said.
National Instruments says the technology will be applicable to hybrid vehicles, electric vehicles, industrial motors, and many other applications. "It's going to be important for anything that uses an electric drive," Keel said.
Related posts: