In a bid to boost the viability of lithium-based electric car batteries, a team at Lawrence Berkeley National Laboratory has developed a chemistry that could possibly double an EV's driving range while cutting its battery cost in half.
The new chemistry, which employs a nanocomposite sulfur cathode, could be significant because it potentially offers the traditional high energy and low cost of lithium-sulfur, while eliminating the cycle-life problems that have long plagued that technology.
"If automakers can successfully develop this into a full-sized battery without making any performance compromises, we could finally have a battery-powered vehicle with a 300-mile range," Elton Cairns, a professor of chemical and biomolecular engineering at the University of California, told Design News. "And the cost would be much lower than today's lithium-ion batteries, because sulfur is literally dirt cheap."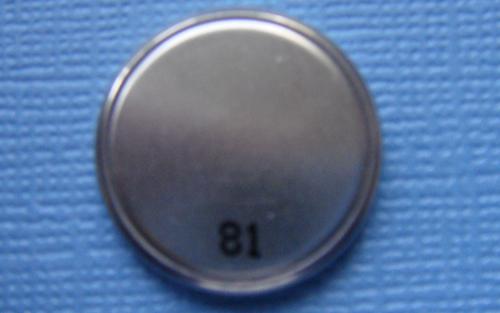 Cairns, along with fellow researchers Min-Kyu Song and Yuegang Zhang of Lawrence Berkeley, have built a coin cell-sized version of the battery, and are talking to auto industry suppliers about scaling it up to a full-sized EV battery pack. With sufficient backing, he believes a full-sized lithium-sulfur pack could be demonstrated in an electric vehicle within five years, and could reach production a few years after that.
The new technology offers a specific energy of about 450-500 Wh/kg. By comparison, most of today's electric cars employ batteries with specific energies of about 140-150 Wh/kg. Some lithium-ion researchers are said to have reached 200 Wh/kg, which is still less than half of what Lawrence Berkeley's battery offers. Cost is also lower because the new chemistry replaces expensive materials, such as cobalt and nickel, with sulfur.
The key advantage of the new technology, however, is its high cycle-life. Whereas, past lithium-sulfur batteries had offered as little as 100-200 charge/discharge cycles, the new chemistry is said to provide as much as 1,500 cycles.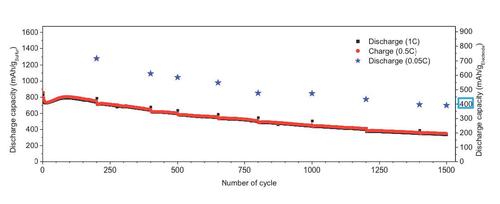 In the past, automakers tended to reject lithium-sulfur, largely because they sought a minimum of 1,000 cycles, and possibly as many as 2,000. The reason for the high cycle-life requirement is simple: Most automakers consider EV batteries too big and expensive to be regarded as a service item. They want the battery to last the life of the vehicle.
Assuming a 300-mile range over 1,500 cycles, Lawrence's Berkeley's chemistry would provide that. Theoretically, it offers 450,000 miles of battery use, making it an unlikely candidate for replacement.
Cairns said more work needs to be done to fully characterize the battery. Maximum and minimum operating temperatures aren't yet completely understood, he told us, nor are such characteristics as shelf life and self-discharge rates. Still, Cairns expects the chemistry to draw interest from the automotive community. "Up to now, cycle-life has been the big impediment to the commercialization of this technology," he said. "But we think we can change that now."
Related posts: