Safety has always been a concern on the factory floor when it comes to the technology driving automation systems, and more and more automation technology providers are trying to make it easier to prioritize this as part of system design.
Rockwell Automation has been a champion of this effort, offering a number of tools to help manufacturers design safer systems. Its most recent offering is the AADvance Workbench 2.0, a complete design, configuration, and maintenance software environment that helps enable companies ensure safe and continuous operation through the control of safety process automation, according to Rockwell.
The new workbench joins two tools the company introduced earlier this year -- the Rockwell Automation Safety Automation Builder configuration software and Safety Functions design documents -- in the interest of helping manufacturers build safer systems, machines, and equipment.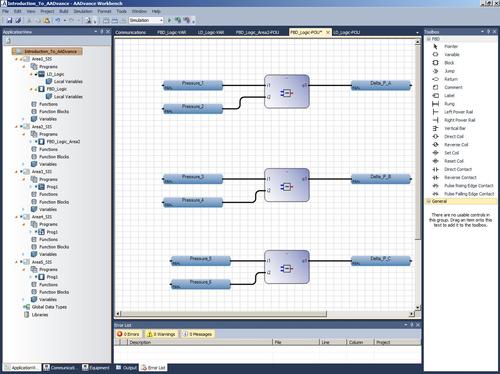 AADvance Workbench stems from Rockwell's acquisition several years ago of ICS Triplex. The system is comprised of the AADvance controller platform configured to any mix of SIL1 to SIL3 simplex, redundant, or triplicated safety loops. Manufacturers can use several units to form a network of distributed safety controls and to monitor and control thousands of safety I/O points, the company said.
Application designers also can perform a number of other functions with the product, including importing, exporting, or migrating projects, and monitoring and managing controller status and communications protocols with plug-ins to the tool.
AADvance has been integrated into Rockwell's PlantPAx process automation system, making process safety a part of the larger process automation system rather than a separate aspect of it, said Julien Chouinard, director of process safety and critical control for Rockwell, in a press release.
"The workbench is now an integral part of the PlantPAx process automation system, which is capable of managing the entire range of plant automation applications, including process control, discrete control, power, information, and process safety," he said.
To configure a system, engineers would use the workbench software for any functional-safety or critical-control application using a standard range of modules and assemblies included in the software. For example, emergency shutdowns and protection applications for fire-and-gas detection are two applications the software is particularly well suited for, since the workbench provides a system solution with integrated and distributed fault tolerance, according to Rockwell.
The company designed the workbench for usability, with a modern graphical user interface, drag-and-drop configuration, and built-in simulation features. For flexibility in programming the system, the workbench includes compliant IEC61131 programming languages, according to the company.
Rockwell said it plans to release the AADvance Workbench 2.0 in the first quarter of next year.
Related posts: