The trend of safety controllers becoming more integrated with the overall control and software architecture on OEM automation machines is moving forward on many levels. A good example is how a new breed of safety PLCs from ABB that combines advanced software to coordinate real-time motion with safety processing, along with redundant hardware, is helping to make this happen.
By implementing structured text programming to simplify complex motion-related and a dual processor architecture that complies with SIL3/PL e functional safety levels, the new AC500-S controller offers flexible and powerful programming tools for developing safe control solutions for the most complex control applications.
"Part of the uniqueness of the new product is the fact that it not only provides an integrated solution with open standards from PLCopen, but we have also added the ability to program in structured text to access safety functions within the controller," Christopher Stamas, product manager, servo motion and PLCs at ABB, told Design News during a recent interview.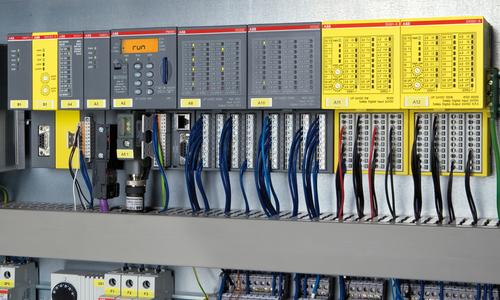 Stamas said that users now have the ability, especially for wind turbines, cranes, hoists, and robotic applications, to perform calculations in real-time, to see devices moving on a motion path, and to integrate all of those abilities within a system's safety features. He added that, with the European Union (EU) highly focused on machine safety, any machine builder putting safety features into machines as an OEM needs to look at these requirements closely if they want to ship machines globally.
"We are always looking at global standards, and the functionality in the new controller conforms to these new standards. We have added an ability to take programming to the next level, but we are still adhering to the PLCopen standards," Stamas told us.
Another unique aspect of the controller design is that it has been ruggedized to operate effectively in extreme environments. One target industry is crane and hoists for mining, and these environments require controllers that can withstand outdoor temperatures, high altitude operation, and the potential for huge shocks where the requirements are almost military grade.
Offering structured text as a programming option for safety functions is new for ABB with these new controllers. Existing ABB standard safety controllers use function block diagrams. But adding structured text in conjunction with CoDeSys while supporting popular PLCopen standards, is a key innovation. It is the same structured text that users would normally use, but now it is also safety-approved and also includes trigonometric functions.
The ABB hardware solution also features a dual processor (rather than using a soft architecture). The safety processor runs separately, and the analog I/O also has separate integrated processors. Redundant programs are running within the safety controller itself, and watching each other, which adds another layer, which is completely independent of the primary processor talking to its own Profinet I/O using PROFIsafe. The main controller, even though it's in the same rack, can completely die, but the safety controller will continue to keep track of its own I/O.
ABB has also introduced a new safety code analyzer tool to help users with certification efforts and assistance in following the safety standards. The tool reviews the programming project and will warn the user about potential rule violations or code that may not be implemented exactly as the standard stipulates. An integrated tool to help with hardware and device analysis is planned for the future.
Existing users can convert their AC500 applications to include safety by upgrading to the new Automation Builder tool to add integrated safety to applications. The new functions are all part of the development environment and work with older versions of the AC500 hardware. Users can also easily add the safety processor and safety I/O into their existing racks.
Related posts: