Transient shunt drop imposes another practical upper bound on shunt value. Voltage across the shunt will subtract from the power-supply voltage seen by the DUT. By connecting the power supply remote sense leads after the shunt, the power source can supply extra voltage to compensate for the steady state resistor drop, as depicted in Figure 4. However, following an abrupt change in current, the shunt will still cause a transient voltage deviation, ΔV = ΔI * R, while the power supply settles to the new operating point. Transient shunt drop on top of the inherent power system transient response may cause the DUT to reset or otherwise misbehave.
At low current, V = I * R indicates that a large shunt resistance is required to generate a signal big enough to measure accurately against the background of offset errors. In the context of a single shunt system that must measure both high and low currents, the maximum shunt value is already constrained by power dissipation and transient response concerns. Therefore, using the largest resistor possible, the minimum accurately measurable current is dictated by when the DVM and Seebeck voltage offset errors become unacceptable.
You might be tempted to employ a second shunt and a bypass switch to generate a larger, easier-to-measure signal for low current measurement. However, switching the correct shunt into the circuit is programmatically cumbersome, because it must be synchronized with changes in current due to DUT activity. An unexpected high-current transient through a large shunt would cause a dip in power supply voltage and disrupt DUT operation. Assuming that an ideal high-current bypass switch could be realized, power system transients would still result from suddenly adding or removing impedance in the DUT current path.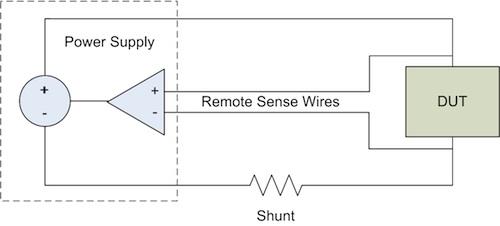 An alternative solution
Given the difficulty in designing and validating a shunt system, it's noteworthy that high-performance power supplies often have excellent metrology built in. The Agilent N7900A power supply family can measure current up to 200 A with a gain error below 0.04 percent. Both current and voltage measurement accuracy are guaranteed by design and are tested and specified under extreme environmental conditions. Also, the series employs a thermal model to estimate the shunt element temperature in real time and digitally correct for temperature-induced errors. This process improves accuracy and reduces test time compared to an uncompensated system.
Achieving high accuracy in a shunt and DMM-based current measurement system is considerably more involved than a cursory glance at Ohm's Law might suggest. Numerous error terms erode the absolute accuracy to far below the DMM's theoretical performance, while temperature dependencies plague repeatability. Accounting for these errors and validating the results requires a significant investment in time, equipment, and expertise. Using the measurement capabilities built into a laboratory power supply can provide a convenient interface to the data and reduce the number of instruments needed for testing.
— Mark Peffley is an R&D Engineer for the Power & Energy Division at Agilent Technologies. He's been with Agilent for five years working on laboratory power supplies. He graduated from Penn State University with a BSEE degree.
Related posts: