As shown in Figure 2, all resistors shift value slightly with changes in temperature. This effect is quantified, to first order, as the temperature coefficient of resistance (TCR), usually reported as ppm/°C (see Equation 1 below). Ordinary copper has a TCR of about 4,000 ppm/°C. Precision shunts use special metal alloys compensated to minimize the TCR and may achieve performance of 10 ppm or better. However, the TCR is never zero, so you must compute its effect, particularly when the resistor will dissipate several watts, to ensure that changes in ambient temperature or rise from self-heating doesn't foul up the measurement accuracy.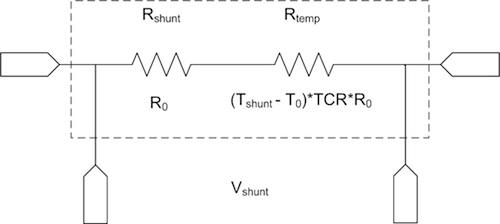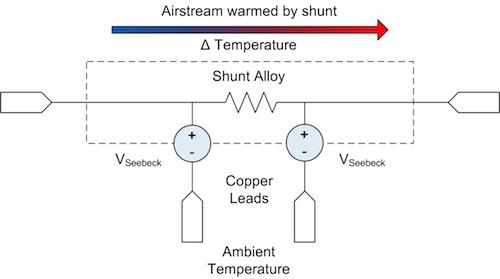 A 40C rise in a 25 ppm resistor would result in a 0.1 percent error. Furthermore, because the resistance changes with temperature, the shunt voltage will exhibit a long tail following a step change in current until the shunt reaches thermal equilibrium. Thermal time constants depend on the shape, mass, and thermal conductivity of the shunt materials. They may be as long as minutes for physically large devices, and severely impede test throughput while waiting for the shunt temperature to settle.

Though a good DVM is capable of measuring microvolts, offset errors tend to dominate the shunt system's overall accuracy at low signal levels. These imperfections set a lower bound on shunt value, to ensure that the offsets aren't significant relative to the expected signal. DVM voltage accuracy specs include a fixed "percent of range" term, an offset, typically on the order of microvolts, as well as temperature dependencies.
The Seebeck thermo-electrical effect, exploited by thermocouples to measure temperature, is a common source of offset errors in shunt-based current measurement. It occurs wherever a circuit made of two different metals experiences a spatial temperature difference. The magnitude of the Seebeck voltage depends on which metals are in contact and the temperature difference, typically on the order of microvolts/°C. To minimize thermo-electric effects, materials must be chosen carefully, and the system must be kept isothermal.
Therefore, you should be mindful of heat sources that could cause thermal gradients, such as cooling fan exhaust air or power dissipation in the shunt itself. As shown in Figure 3, plated contacts in connectors, relays, and even the copper connections to the shunt alloy, can form unwanted thermocouple junctions and pollute the measurement with temperature-dependent offset voltages. A 10 µV offset (example: 3.33 µV/°C Seebeck voltage × 3°C), represents a 0.1 percent error in a 10-mV signal.
Choosing a shunt
Good current measurements start with good resistors. Non-idealities including tolerance, lead resistance, and a large TCR preclude the use of an ordinary resistor as the measurement shunt. Beyond that, conflicting requirements for high and low current measurements constrain both the maximum and minimum possible shunt values in a practical system.
For high current, limiting power dissipation to a reasonable level imposes an upper bound on shunt resistance. Using P D = I 2 * R, 100A through 1 mΩ would dissipate 10 W to yield a modest 100-mV full-scale signal. At 10W, changes in shunt value from the TCR are likely to be significant, requiring either a heat sink or a physically large device to limit the temperature rise.