Conroe Machine is doing what most machine shops only dream of -- hard turning a family of parts around the clock in an unmanned cell that operates a "self-controlled" process. The company is proof that the dream is achievable for any shop ready to use the talents of today's young automation experts to exploit new technology, like Renishaw's programmable Equator gage. The turning cell, with software and programming developed by CNC Programmer James Wardell and Robotics Technician Jeff Buck, integrates a Fanuc robot with the Equator gaging system, using Renishaw EZ-IO software to provide comprehensive communication for 100-percent part inspection and auto-compensation of a twin-spindle Okuma 2SP-250 lathe. The cell also boxes and palletizes finished parts.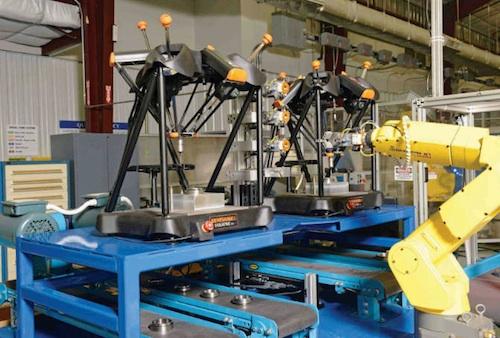 The same automation team has gone on to create an unmanned part measurement/sorting cell for a customer, this time combining two Equators, a Fanuc robot, a vision system, and multiple lanes of low-profile conveyor. In both applications, the Equator demonstrates the value of programmable comparative inspection by quickly measuring a family of bearing races, doing it cost effectively, and without fixturing or problems from a shop floor environment.
Conroe Machine is a relatively young company, founded by Murray "Tippy" Touchette in 2000, with the expressed objective of producing parts with the best manufacturing technology available. The company grew rapidly to about 150 employees operating in a climate-controlled 65,000-sq-ft plant. While it is a general-purpose shop, Conroe's location near Houston results in a high percentage of business from the oil and gas industry, principally for drilling components.
Moving up the automation ladder
The bearings are currently roughed out on four Doosan Puma lathes that originally did both roughing and finishing, and were served by four operators. These machines are now split into two cells, loaded/unloaded by Fanuc robots, doing only the roughing operation -- these cells were among the shop's earlier automation projects. The semi-finished parts are sent out to be case hardened to HRC 65 at a depth of 0.070 inch (1.7 mm) before the finish turning.
"Our production plateaued at 800 to 1,000 total parts per day with these two cells," said Wardell. "We had a single operator loading the machines and inspecting the parts. However, you can rely on an operator to correctly inspect only so many parts with this kind of volume, and we needed even more output."
"For our next step up," he said, "we conceived a fully automated process for the finish machining, with automatic part loading, post-process measurement, automatic tool compensation, part engraving, and boxing/palletizing the parts. We had pretty good ideas for the components of such a system, except for the part measurement technology, CNC type, and software for tool compensation. Inspection must be fast to keep up with the cycle times on the parts, which can be as short as 98 seconds. Originally, we looked at white light laser inspection because of its speed, but the parts are too reflective. We also looked at hard gaging and shop-floor CMMs. Hard gaging was very expensive and required setup attention, and the CMM gave no speed advantage. While working with Renishaw on other projects, we were introduced to the Equator as a possible solution."