Recently, Northern Italian machine tool manufacturer Biglia introduced its multi-functional turning centers of the "Quattro" series with the Sinumerik 840D sl CNC. The mechanical concept, together with the scalable control, provides users with the most diverse standard turning and milling operations. The result is increased flexibility and higher speeds for end users.
The machines in the "Quattro" series are multifunctional turning centers that are valued throughout Europe for their reliability and performance power. The machines are available in different versions from 11 to 15 CNC axes. They are also intended for different turning diameters (45 mm, 52 mm, 65 mm, 71 mm, and 80 mm).
The two opposing spindles form a special feature of the "Quattro" series. This allows the workpiece to be machined from two sides, which reduces the machining time. The second spindle can also be moved linearly in two directions (lengthwise and crosswise). This provides some leeway in the case of additional milling operations, but it can also be used for automatic workpiece unloading. Two turrets, mounted on the y-axis, ensure proper positioning of the necessary tools.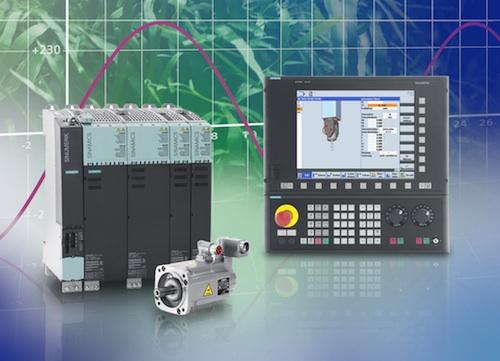 This innovative machining technology allows the creation of not only rotary but also prismatic workpieces -- including polygons. Dealing with everything in one setup not only reduces cycle times, it also enhances accuracy. The machines are developed on the basis of a modular concept that ensures flexible application options, from the universal CNC lathe, to complete machining of complex workpieces with powered tools (c- and y-axis).
Getting it right, from the start
By offering the Siemens Sinumerik 840D sl CNC control, Biglia now wants to expand its previous options and its own market by combining its technologies with that of the Siemens control. "In this project, which is of personal significance to all of us who worked on it and of strategic significance for Biglia, we wanted to do everything perfect right from the start and to get the most out of it," says Giovanni Delmondo, business development manager for machine tools with Siemens Italy. The result is an all-round successful machine series with a highly modern control that already includes the innovative system expansions of recent months -- including increased energy efficiency options offered by the control and drive systems from Siemens.
To illustrate this, Delmondo points out that "the fans on the spindles are shut down automatically when they are not required, or certain services such as hydraulics, lubricant supply, or compressed air are deactivated during machine standstill times. This is handled via special screen forms on the control and is extremely simple, using the Run MyScreens function."
Also notable is the standard energy-efficiency solution from Siemens in the Sinamics S120 drives onboard this machine series. This includes automatic power factor correction or regenerative feedback of the energy generated in braking operations.