We live in a dangerous world. Terrorism is real and a part of our everyday lives, both abroad and in our own back yards. We hear and see reports almost on a daily basis, yet there are probably dozens of other thwarted terrorism attempts of which we will never have an inkling. Among the hundreds of entities devoted to avoiding disaster, a company in Tennessee stands out.
Remotec Inc., a subsidiary of Northrop Grumman Corp., manufactures a fleet of unmanned hazardous duty robots in its Andros line of platforms. Remotec began operations as a private company in 1980 in Oak Ridge to provide remote handling for nuclear materials. The company expanded to areas outside of the nuclear field and purchased the Andros technology from a UK company in 1986. In 1996, it became a subsidiary of Northrop Grumman. For more than 25 years, Remotec has served the military, explosive ordnance disposal units, hazardous materials units, and other first responders as a leading provider of mobile robotic systems for application into a variety of undesirable, hazardous, and potentially life-threatening environments.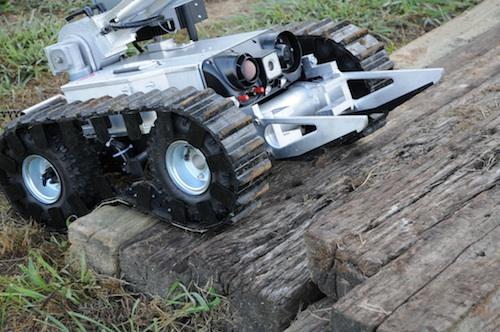 There are five unique robots in the fleet that are comparable in size from a child's wagon all the way up to a skid-steer loader. Designed primarily for EOD (Explosive Ordinance Disposal), the lineup is also available for hazmat, tactical, and CBRNE (chemical, biological, radiological, nuclear, and high-yield explosive) uses. You may have seen the HD-1 in the opening scene of the Academy Award-winning film The Hurt Locker, or possibly delivering the game ball in the 2010 Military Bowl. The Andros robots were also the inspiration for the title character in the Walt Disney Pixar film Wall-E.
Ogura Industrial Corp. provides four brakes on the Andros HD Series, the successor to the HD-1. The most versatile and lightweight robot in the fleet, the HD features three cameras, including a pan/tilt surveillance color camera with a 216:1 zoom, a black-and-white rear-facing camera, and an arm-mounted LED light. The Andros robot also features an option for a weapons camera, as well as a laser sighting system.
The Andros robot is capable of speeds of up to 4.3 miles per hour and can travel a distance of 100 meters in 45 seconds. Weighing in at 40 lb, it can maneuver through mud, snow, and sand, as well as over rough terrain and paved surfaces. An operator can navigate the robot through openings as small as 26 inches wide and 31 inches high and over obstacles 8 inches tall. The robotic "hand" or gripper can open to 6 inches and has a vertical reach of over 6 feet, as well as having the capability to reach beneath automobiles. Tracked front and rear articulators make the HD capable of climbing stairs at over 45 degrees. The powerful rolling wrist and gripper of the Andros HD-2 is able to lift and maneuver heavy objects up to 125 lb, such as a 155 mm artillery shell.
The upgraded fleet of Andros HD-1 Unmanned Ground Vehicles (UGVs) now helps to counter evolving threats from improvised explosive devices (IEDs). The manipulator arm's end segment also features a Quick Release technology, which allows the operator to change the arm's end tools on the fly, in the field.