When Norcimbus began incorporating Siemens Industry PLCs into its gas cabinets and valve manifold boxes (VMB) a while back, the gas and chemical distribution equipment company had no idea what kind of impact the move would have on its operations. But now, just four years later, it is well on its way to adopting Siemens technology as its standard automation platform, a decision that is giving its customers a new level of service and support and generating new products and systems for its market base.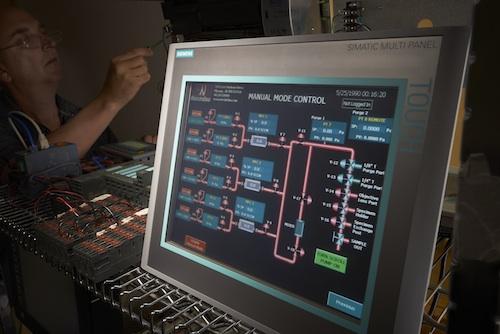 Norcimbus is a leader in designing, engineering, manufacturing, installing, and qualifying particle-free UHP (ultra-high purity) process gas systems. Its line of controllers, gas cabinets, gas panels, and variable flow gas mixers provides gas and chemical control at all levels to a variety of industries. Prompted by requests for Siemens technology from overseas customers and challenges with other suppliers' products, the company began its conversion to the Siemens brand retrofitting mainstay products -- gas cabinets and valve manifold boxes (VMBs) -- with Siemens' S7-1200 Series PLCs and HMI Basic and Comfort panels.
It then expanded the migration into its newest product line of modular universal controllers, in all cases harnessing the power of Siemens engineering software, TIA Portal, to integrate the components.
In the beginning
What led to this major change in platforms? A number of factors came into play. Norcimbus manufactures all kinds of automated specialty gas delivery systems. A global company -- some 60 percent of its business is international -- its products may be found in facilities from small start-up venture R&D firms to pilot fabricators to fully automated manufacturing plants. Its primary offering, the gas cabinet, is essentially a cylinder storage device that automates delivery of highly flammable, toxic, or hazardous gases, taking the process out of the hands of the operator.
Systems are built for automatic or semi-automatic operation, delivering gas to users and letting operators know when it is safe to change out a cylinder. Typically, a VMB is installed between the gas cabinet and the tool to distribute the gas to the tool or tools. All components are designed to communicate with one another and many interface to a SCADA system. At the heart of every state-of-the-art system is a PLC.
In the beginning, the company was relatively unfamiliar with the Siemens brand. Then a customer in China asked for gas cabinets equipped with Siemens S7-200 PLCs and a Red Lion display. Issues with the display driver arose and were attributed to the S7-200 PLC, but further investigation showed the problems rested not with the controller but the display. As a result, Norcimbus took a closer look at the Siemens equipment, eventually embracing the S7-1200 PLC, a versatile, flexible product line whose diversity and modular design offers virtually all the features Norcimbus' customers would ever need, from expandable memory to customizable displays. In addition, the PLC's programming capabilities allowed the company to easily upgrade or downscale products while maintaining a standard Siemens core, a capability it had not known with the previous line.