A new 3D printing material that's resistant to heat and corrosion debuted at the K 2013 trade fair and conference in Germany last month. Its manufacturer, EOS, also introduced two new plastic materials in the company's PrimePart line for creating industrial final production parts: a PEBA 2301 and a flame-retardant PA 12.
NickelAlloy HX, for use in the EOSINT M 280 metal system, is a nickel-chrome-iron-molybdenum alloy that has fairly high operating temperatures compared to other metals, Joseph Weilhammer, metals product manager at EOS, told Design News in an email. Operating temperatures are comparable to those of Inconel. The alloy's wrought and cast forms are usually solution annealed, but parts made with this laser-sintered version have high strength and elongation. They are processed with 20-micron-thick layers. If a part is also solution-annealed after laser sintering, its microstructure becomes homogenized, which decreases strength slightly, but also increases elongation.
Click on the image below to start the slideshow.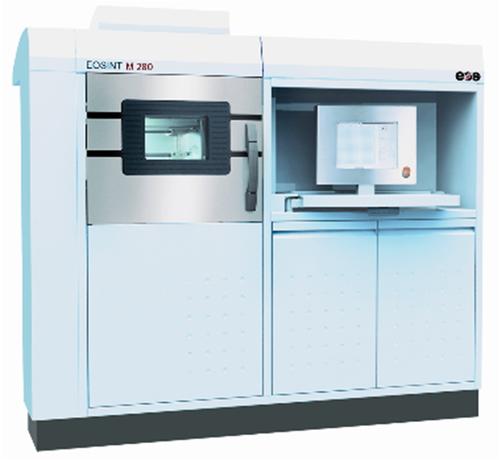 The material is also resistant to oxidization at temperatures of up to 1,200C. The alloy's composition corresponds to UNS N06002. Typical applications include components of aircraft combustion chambers, industrial blast furnaces, conveyor ovens, and heating elements. NickelAlloy HX parts can be heat-treated, and their material properties can vary with a certain range. Both heat-treated and as-built parts can be welded, machined, spark-eroded, and micro shot-peened, as well as polished and coated.
Siemens Energy uses NickelAlloy HX for making production parts quickly, as well as for prototypes and repairs. The company has seen time and costs for repair of industrial gas turbines drop as a result, according to Andreas Graichen, product developer for gas turbines. "We leave the structure intact, remove the outer 20 mm, and then simply print a new combustion-head," he said in a press release.
The new PrimePart materials include PrimePart FR, a PA 2241 FR, and PrimePart ST, the PEBA 2301. Designed for demanding applications like aerospace, PrimePart FR has an elongation at break of 15 percent and tensile strength of 49 MPa, specs which are greater than those of EOS's previous flame-retardant PA 12, PA 2210 FR. Typical aircraft interior uses include outlet vents and ventilation ducts. PrimePart FR is available now for EOSINT P 395, P390, P 730, and P 760 systems, according to a press release.
Designed for making flexible, rubber-like components, PrimePart ST has an elongation break of 200 percent, as well as rebound elasticity and elastic restoration ability. It also has good fatigue performance between -40°C and 90°C. Parts can be painted, flocked, roto-finished, and flame-treated. Applications include sporting goods and consumer goods, as well as industrial and medical uses. It's available for the EOSINT P 395 and will be soon for EOSINT P 760 and FORMIGA P 110 machines.
At the K show, EOS also demonstrated how its metals systems are helping to produce tooling solutions, such as those for injection molding. Its plastics systems are being used in various industrial applications. Kuhn-Stoff, for example, used the predecessor of the FORMIGA P 110 plastics processing system to create a bronchial gripper for Wittmann Robot Systeme. The gripper reduced parts count, weight, production time, and cost.
The EOSINT M280 metals machine has been used to produce tooling cores for injection molding. Because of the design freedom available with additive manufacturing, Innomia could make cooling channels with greater precision than is possible with drilling methods, at lower cost in less time, according to managing director Lubos Rozkosny in a press release. Conformal cooling is helping to reduce overall injection molding cycle time by up to 30 percent.
Related posts: