Developers of industrial robots and automation systems will soon have a family of processors that combine the functionality of field programmable gate arrays (FPGAs) and microcontrollers in a single chip.
Known as the QorIQ LS1 family, the new processors are targeted at robotics, automation, industrial control, and fan-less, convection-cooled applications. "This takes a two-chip solution down to a single chip," Nick Sargologos, senior product marketing manager for Freescale Semiconductor, told Design News. "So you reduce cost, power consumption, and complexity."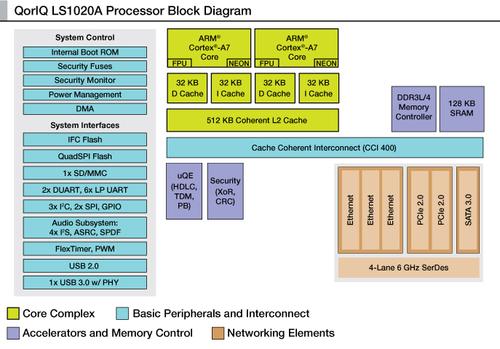 The new family of processors employs dual ARM Cortex A7 cores to provide high performance (6,000 CoreMark) at 3W or less. By keeping the power down, the processors can be used in applications where packaging is tight, Freescale said. "There are many industrial applications -- such as programmable logic controllers, motion controllers, process automation gateways -- where you have to withstand high ambient temperatures in a fan-less design," Sargologos told us.
The family includes three different processors. The LS1020A processor is aimed at enterprise and consumer networking, while the 1021A targets factory industrial automation, and aerospace and defense. The 1022A focuses on entry-level consumer and industrial designs. The products include a variety of features, ranging from virtualized Gigabit Ethernet and integrated LCD controllers to support of ProfiBUS, ModBUS, CANopen, and DeviceNET.
In many such applications, design engineers previously employed a combination of FPGAs and microcontrollers. But those solutions typically consumed more power and added greater complexity than Freescale's new 3W designs, Sargologos told us. "This part is really like a Swiss Army knife," he said. "The level of performance it delivers at low power allows it to be designed into all kinds of small-footprint applications."
Related posts: