Maplesoft said it has integrated a library of hydraulics components into its MapleSim modeling, analysis, and simulation tool, making it easier for engineers to design hydraulics systems from within the tool's environment.
Through a partnership with Modelon -- which offers systems simulation tools based on the Modelica and Functional Mockup Interface industry standards -- Maplesoft is offering the MapleSim Hydraulics Library from Modelon.
A Canadian subsidiary of Cybernet Systems Co. in Japan, Maplesoft offers computation engine and physical modeling technologies in tools for design, modeling, and high-performance simulation. MapleSim provides a tool for physical modeling and simulation at the system level, allowing engineers to combine hydraulic subsystems with other aspects of a design and to analyze interactions.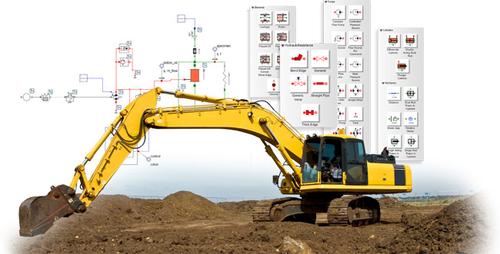 Dr. Laurent Bernardin, executive vice president and chief scientist at Maplesoft, said in a press release that the library gives engineers a closer view of how hydraulics (which can be tricky to model and simulate) fit into the system design picture. "Hydraulics systems are notoriously difficult to model with high accuracy, but so important to understanding system-level behavior."
The library includes more than 150 components for modeling pumps, motors, cylinders, restrictions, valves, hydraulic lines, lumped volumes, and sensors, and it allows engineers to do system-level modeling of hydraulics from directly within the MapleSim environment.
Components include those suitable for real-time and hardware-in-the-loop simulations, along with advanced components that consider physical factors and provide a precise view of system behavior. The new library allows designers to incorporate compressible oils and cavitation effects into models, Maplesoft said. Engineers can select from a set of predefined standard hydraulics oils or define their own.
System designers also can reuse, customize, and extend hydraulics components to suit the particular needs of a project, and they can control the level of model detail to meet specific needs. Additionally, the hydraulics library offers access to underlying system equations to provide advanced analysis, parameter optimization, and visualization in MapleSim.
Related posts: