A new touchscreen controller from Cypress Semiconductor Corp. delivers active stylus-type performance to handheld devices in a low-cost, passive-style format. The controller is being targeted at such devices as superphones, e-readers, and tablets.
"On larger screens, people want to write things down," John Carey, senior director of marketing and applications for Cypress Semiconductor, told Design News. "They want to take notes directly into their phones and tablets. This controller allows them to do that without high cost."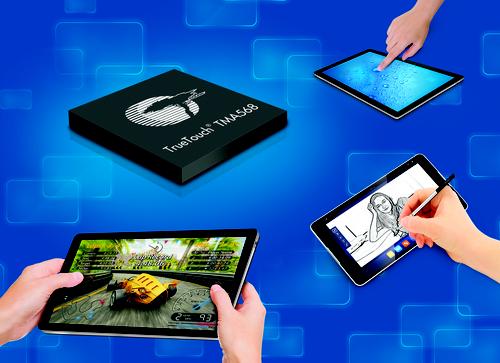 Known as the TrueTouch TMA568 controller, the new chip supports writing and drawing with a 2.0-mm-tip passive stylus, thus enabling touchscreens to capture characters as small as 7 mm (about a quarter-inch). As a result, it can serve in applications where users write in such languages as Japanese or Chinese, which require enhanced character recognition. The key advantage for OEMs, however, is that it does that while eliminating the need for the costly active stylus, which would ordinarily communicate with the handheld device.
"The idea is to make it like a pen and paper," Carey told us. "You could put your hand on the screen, and it's able to reject the palm and see the very tiny stylus signal, right in the presence of the very big signal from your hand."
Up to now, it's been difficult for electronics manufacturers to get the necessary accuracy and linearity needed to achieve that with a passive stylus, Carey said. That's why they typically invested in active styluses, which add as much as $10 to a device's bill of materials.
The new chip achieves its performance with a combination of technologies, including tighter spacing of screen sensors, which provides for precise tracking of styluses, and 40 V peak-to-peak noise immunity. To enable it to serve in e-readers and tablets, Cypress engineers designed it to support screen of sizes up to 8.3 inches.
Cypress told Design News that the ability to provide active stylus performance with a passive stylus is a first for a touchscreen controller. "You can write with a number two pencil or most standard ballpoint pens," Carey said. "As long as the device you write with has some conductivity, it will work."
Related posts: