Traditionally, control and communication in automation systems have been handled by separate devices. However, components providers are increasingly integrating more functionality into single devices to simplify the design of factory automation systems.
To that end, Advantech has launched a new controller that combines control technology with communications to make it easier to implement factory-wide data acquisition and control applications, according to the company. The APAX-6572, a new addition to the company's APAX controller family, also is well-suited as an auxiliary control for unit operations.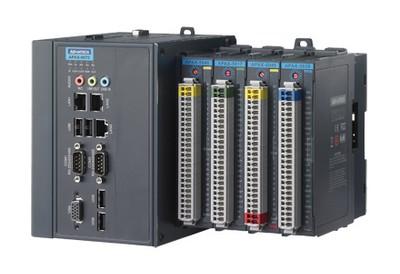 The new controller integrates the three key aspects of automation -- computing, control, and communication -- into an open system architecture, according to Advantech. The controller also has a small footprint, allowing system designers to deploy control logics in a more compact environment, the company said on its website.
The APAX-6572 also allows for development in a range of programming language through its support for the IEC-61161-3 standard for LD, FBD, IL, SFC, C, C++ and C#, as well as .NET class libraries, according to Advantech. This gives programmers flexibility in using whatever language they prefer without having to switch languages between controllers.
Technology wise, the automation controller contains an Intel Atom D510 1.66GHz, 2GB RAM controller with three GbE LAN, two COM ports, one VGA, and four USB 2.0 ports. It also features onboard 2 GB DDR2 DRAM and supports real-time control tasks under Windows CE through ProConOS. The APAX-6572 also allows for various port configurations through four slots for expansion, the company said. Using these ports, system designers can install four APAX-5090P modules to provide a maximum of 18 COM ports; four APAX-5095P CAN port cards for a maximum of eight CAN ports; or a combination of the two. Customers also can apply a maximum of 32 APAX DA&C I/O modules to the this system for a maximum of 768 Digital I/O and 192 Analogue I/O points.
Additionally, the APAX-6572 includes technology to monitor the health of an automation system, including a feature called an Advanced Watch Dog Timer that provides alarms and self-healing before the system is reset, according to Advantech.
Also included in the controller is an Active Health Check feature that monitors the hardware and triggers alarms if there is a problem, and a backup system that can take over if the master system fails.
Related posts: