As product performance demands continue to rise, designers building power-supply prototypes need test procedures that allow them to evaluate their designs' efficiency quickly. We will look at two relatively simple approaches to accomplish this task -- a method that uses a wattmeter to measure input power, and one that uses two multimeters. While neither of these techniques follows all the required steps for energy standards compliance testing, they both offer effective ways to perform a quick, internal evaluation.
To complete these tests you'll need a programmable AC source or Variac, an electronic load, and either a wattmeter and two digital multimeters (including one with four-digit current resolution), or four digital multimeters, including one with both true RMS and high-current resolution to measure input current, the other with a high-resolution meter to measure output current.
Start by noting that power-supply efficiency is calculated as the ratio of output power to input power, or:
power-supply efficiency = output power/input power
DC power is calculated as volts times amps and can be easily measured with two multimeters. A high-resolution multimeter measures the current delivered to the load and a standard multimeter measures the power supply's output voltage.
AC input power can't be calculated simply as RMS input voltage times RMS input current because of the differences in phasing between the voltage and the current in an AC system, designated as ϕ and seen in figure 1. If we did this, it would yield a result that's too high because the value would include both the power converted by the power supply (P) and the power that's returned to the AC source (Q).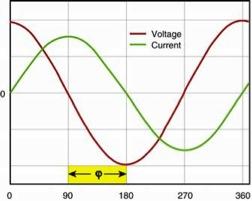 To calculate efficiency, we must measure only the power that's actually converted by the supply, as shown in figure 2. To do that, we'd have to multiply the measured apparent power, S, by the Power Factor: cos(ϕ).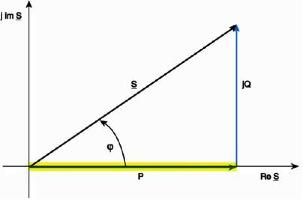 Because it's difficult to measure the phase angle without an oscilloscope, the easiest and most accurate way to measure AC input power is by using a wattmeter. The wattmeter measures the phase angle internally and applies it to the final measurement. This is the most accurate way to measure AC power. If you plan to make a lot of these measurements, a wattmeter is strongly recommended. If you don't have access to one, the second method discussed here is to use two multimeters to measure DC input voltage and current after the bridge rectifier. This method is less accurate and more time consuming because it involves physically breaking the circuit of the power supply under test.
System under test
The following examples are performed with a real, working power supply built according to the schematic shown in figure 3.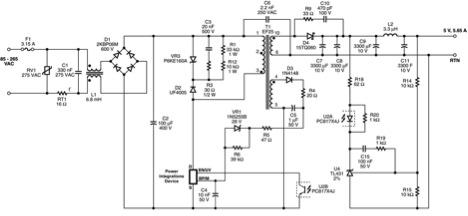 Measuring output power
Both test procedures mentioned above use the same method to measure output power: a high-resolution multimeter to measure the current delivered to the load, and a standard multimeter to measure the power supply's output voltage. We don't want to measure the voltage dropped in the cables connecting the power supply to the load unless it's specifically required. To avoid doing this, connect the voltmeter directly across the supply output terminals, not across the load input terminals. Next, connect the electronic load, and place a high-resolution current meter in series with it to measure output current. Note that certain applications, such as cellphone chargers or laptop adapters, actually require that losses in load cables be included. In these cases, the voltage meter should be connected at the end of the output cables.
AC turn-on considerations
If you're using a device that features an on/off control scheme, such as a LinkSwitch or TinySwitch device, you can get your worst-case efficiency measurements when the power supply is snapped-on to the test-input-voltage with full load applied to the output. You should be aware, however, that snapping-on the power supply will create a large in-rush current while the bulk capacitor charges. If you're performing this test with multimeters instead of a wattmeter, this may blow the fuse of your input current meter when set to a low range.
You can minimize risk of damage to your meter by ensuring that it's set to the highest current range before snapping-on your system. If you're testing a high-power system or have a large bulk capacitance, this may not be enough to protect your multimeter's fuse. So always begin the multimeter test method by measuring the supply's DC in-rush current when it's snapped-on at the lowest specified input voltage with maximum load connected. Then compare this measured peak current with the multimeter's datasheet to ensure that it can carry the required amount of peak current during turn-on. Note that if you're using a wattmeter, you can skip this test.
For all other non-on/off control schemes, such as PWM control, the turn-on method won't affect efficiency measurements. In these cases, you should slowly increase the AC voltage at turn-on to limit the in-rush current. This will allow you to use the more accurate lower range setting on the digital multimeter without blowing its fuse.