A new mixed signal processor from Analog Devices could fill a growing need for more precise motor control in industrial applications.
The ADSP-CMX40X is targeted at applications where energy efficiency is critical. The device is designed for use in motor drives, solar inverters, and closed-loop servo control. Its ARM Cortex M4 processor core teams with embedded 16-bit analog-to-digital converters (ADCs) to boost efficiency.
"Electric motors consume 40 percent of the world's electrical energy, and a large portion of that is in industrial motor drives," Tim Resker, processor product marketing manager for industrial and instrumentation at Analog Devices Inc., told us. "There's a growing demand for us to deliver more innovative signal processing technologies."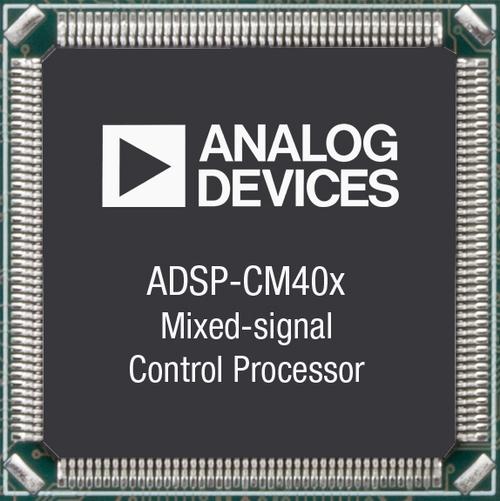 The key to the new mixed signal controller is its ARM Cortex core. The 240MHz floating point design essentially provides more clock cycles, enabling motor drive developers to add more features into silicon. Along with the processing capability, the chip includes dual 16-bit ADCs with up to 14 bits of accuracy.
ADI says the chip helps motor developers meet demands for lower power consumption, less torque ripple, and more precise speed control. Higher-precision analog conversion is also a key enabler for developing advanced closed-loop control systems, the company said. It expects the new technology to fill a growing demand for precise control of photovoltaic inverters.
The company also unveiled a kit with an evaluation board for the mixed signal processor and a high-voltage power board for control of a permanent magnet motor. ADI said it would provide the two boards (along with software) only to users of the processor. It is offering a similar package for solar inverter applications.
"This processor is really for higher-end applications -- motor drives, servos, and PV inverters," Resker said. "Those are the applications that need these capabilities."
Related posts: