A new system-on-chip family could speed development of blood pressure monitors, lab instruments, power meters, and myriad other products by combining a 16-bit microcontroller with high-precision analog components.
Microchip Technology Inc., manufacturer of the new product family, says its design will help product engineers minimize board-level noise problems, eliminate communication bottlenecks, and shorten time to market.
"The chances of getting to market in one revision are now much higher," Jason Tollefson, senior product marketing manager for Microchip, told Design News. "This is a much simpler design."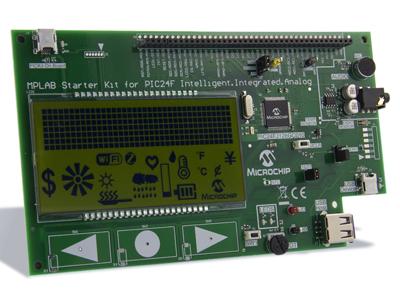 Indeed, the PIC24F GC family, as it's known, essentially includes a full analog signal chain -- 16-bit analog-to-digital converter (ADC), 12-bit ADC, and a digital-to-analog converter (DAC), along with an integrated LCD driver and USB. Also included on the chip is a 16-bit PIC microcontroller. "It's really an analog system-on-chip that happens to have a microcontroller onboard," Tollefson told us.
Microchip is targeting battery-powered portable products with high analog content. The chip maker said the new technology could be applied to glucose meters, pulse oximeters, weight scales, wearable sensors, infrared thermometers, gas sensors, and light meters, in addition to blood pressure monitors and lab instruments.
To help designers get started, Microchip also released a starter kit for the PIC24F GC family. "Our goal was to anticipate what they would need and help them get very close to a final prototype with this board," Tollefson said. "The idea was to provide 95 percent of what designers need to develop a handheld analog prototype."
Related posts: