Toshiba has updated its line of vector engine microcontrollers (MCs) with improvements that it says will allow for more efficiency, better precision, and faster processing in motor applications.
The new TMPM375FSDMG vector engine embedded MC is part of the company's ARM Cortex-M3 core-based TX03 series lineup.
Steve Williams, a product manager in the automotive and mixed-signal controllers division of Toshiba America Electronic Components Inc.'s analog and imaging group, told us in an email that the line is targeted at the designers of control circuits for brushless DC and permanent magnet motors. "It introduces a very small SSOP30 package with flow-through pin layout, and adds an on-chip programmable-gain amplifier for conditioning the back-emf signal from the sense resistors."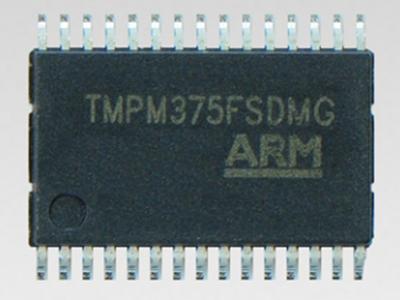 Specific applications of the MCs include home appliances (such as washing machines, air conditioners, and refrigerators), motors and pumps, vending machines, and ATMs.
Vector engine MCs are different from typical controllers in that they include a coprocessor that implements field-oriented motor control, or vector control. This can be implemented in software, but that requires "significant CPU processing time," Williams said.
In motor control, as in most feedback control circuits, the time it takes to process the inputs and calculate the control outputs is what limits the control loop iteration speed. The faster you can iterate the control loop, the finer control you have over the system. For a motor, this translates to more efficiency. So the vector engine hardware approach reduces the control loop processing time compared with a purely software approach, enabling higher efficiency and smoother control.
He also explained some of the enhancements to the line.
The M375 includes additional math units for trigonometric calculations and offers inverse Park as well as space vector modulation for the output control. Cost is also a performance metric, and M375 reduces cost in board area by simplifying board layout and trace area, and also by integrating the programmable-gain amp used to process the input signal from the sense resistors.
Other features of the TMPM375FSDMG MC include:
An ARM Cortex-M3 CPU
Zero-wait-state FLASH and RAM
Simplification of the motor control software
Vector control three times faster than software
A hardware PI loop on Id and Iq
A specialized timer unit for commutation control
Flexible 12-bit ADC
An integrated programmable-gain amplifier
Related posts: