Energy harvesting is becoming an increasingly good option to power wireless sensor networks and other ultra-low-power mini and micro devices. But while some of the devices being created provide all of the power for an application, others are meant as a complement to battery power to extend its life.
To the latter end, Linear Technology, a provider of circuits and power-management technology, has released a new multi-source energy-harvesting chip, the LTC3330, which can deliver up to 50mA of continuous output current to extend battery life when harvestable energy is available, according to the company.
What's more, the device is of the hybrid nature, meaning it can harvest energy from more than one source -- in this case, solar, piezoelectric, or magnetic sources, according to Linear. Generally, energy harvesters can only leverage one source of energy, but the trend is moving toward more versatile harvesters that can generate energy from multiple sources.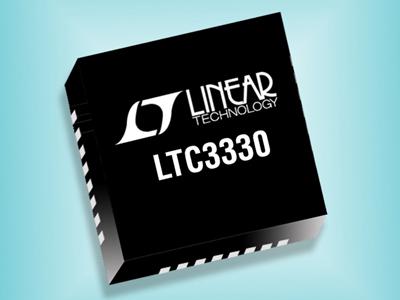 The LTC3330 integrates a high-voltage energy harvesting power supply with a synchronous buck-boost DC/DC converter powered by a primary cell battery. This combination provides a non-interruptible output for energy-harvesting applications such as those in wireless sensor networks, Tony Armstrong, a director of product marketing for Linear, told Design News in an email.
It is well-suited since it consumes very little quiescent current and has built-in power path control so that it can use ambient energy as the primary power source when it is available, but can switch in the back-up battery as the alternate power source if the ambient energy is not available for some reason. This has the added benefit of extending the operation life of purely battery-powered wireless sensor networks.
Armstrong said energy harvesting in general is becoming a more acceptable power source for these type of networks because of this ability to extend battery life, reducing the need to replace batteries, which is "a significant maintenance cost factor.
Harvesters also eliminate the need for wired power, which also can be costly or even impossible in some sensor-network installations.
Having the ability to use the ambient energy or battery back-up power sources eliminates the needs for hard wiring power to them. This again affords significant cost savings associated with implementation and, in many cases, is also an enabler since running wires in many applications is not practical.