As demand for motion control in automation systems become more complex, administrators of these systems are looking for ways to make the task of implementing them simpler. A new DC motion controller from Specialty Motors Inc. (SMI) is aimed at helping in this task, providing a way to create single, multi-axes, or synchronous automated systems without complex programming or purchasing specialty motors or equipment, says the company.
The new D-Con DC Motion Controller from SMI comes in 12V and 24V versions, and offers the type of motion control typically implemented using stepper or servo motors with a DC motor. Typically, the latter -- which are less expensive and considered "dumb" motors because they don't have the built-in intelligence of the former -- aren't used for applications that need sophisticated control, performance, and positional feedback.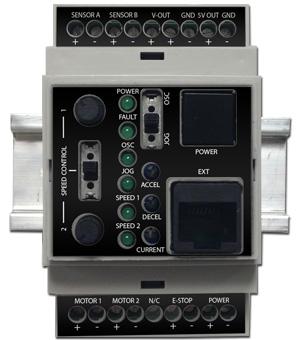 However, the new controller from SMI can be used to build single, multi-axes, or synchronous automated systems complete with variable speed control, direction control, oscillating, or jog-able motion at an affordable price point and without unnecessary complexity, says the company.
The controller is compact in design and works with nearly any 12V or 24V brushed DC motor or with any linear motion stage or slide as long as the motor fits the application, the company said in a press release.
The D-Con uses what's called Pulse Width Modulation (PWM) to provide power, controlling voltage output to the motor so speed can be varied without affecting motor torque. Users can access and adjust this modulation accordingly, the company said.
Other features of the new controller include:
Oscillation mode with instantaneously switchable 2-Stage PWM variable speed control;
External push button jog mode w/ PWM variable speed control;
External potentiometer jog mode with PWM variable speed control;
External buttons/speed control connected via a standard RJ45 connector;
Sensor inputs for 12V DC to 24V DC inductive proximity sensors or contact closure switches;
Dual motor outputs (for two motors to be run in parallel);
Regulated 5V DC output and non-regulated input voltage throughput;
Voltage output protected by 500mA self-resetting fuse;
Six LEDs providing visual feedback for power, fault, oscillate / jog, speed 1 / speed 2.
More technical specifications about the product can be found on the SMI website.
For more on this topic, visit the
Design and Manufacturing Midwest conference
in Chicago, September 10-12.
Related posts: