Automation & Motion Control
Robotics plays an important part in lab automation and in automated medical device production. In both, their accuracy, repeatability, and reliability can increase throughput and reduce errors that can be associated with manual work. New robots that utilize parallel kinematics can improve performance while often reducing size and lowering cost.
Conventional robot manipulators are serial in design. A Cartesian robot, for example, is made up of individual axes, each with its own bearings, guides, motors, and controls that are stacked on top of each other. This design is easy to design and control but has limitations:
Loads stack up. The X axis has to be built to support the Y and Z axis in addition to the work piece. This can result in significant added mass, which limits acceleration and other performance factors.


Tolerances stack up as well -- backlash, repeatability, and accuracy all add up as more axes are added up.


The system gets more and more complicated and costly, as each axis adds another motor, cabling, and control axis to the system.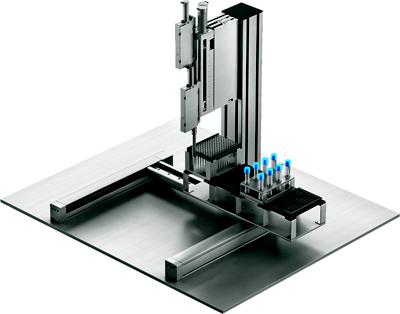 While most obvious in a gantry robot, the same stack up and complexity issues exist in SCARA and articulated robot designs commonly used in automation today. While these designs work well, they can often end up larger and more expensive than they need to be for many automation applications.
Parallel systems can solve many of these problems. In a parallel system, more than one actuator can work each axis of movement. Probably the simplest parallel system in use today is the 2-axis H gantry design. In this design, both motors are static, driving a single belt fastened only to the X/Y carriage. This can offer many advantages over a similar serial design:
Component count is greatly reduced. The system shares a common belt, there is no need to fasten the axes together, and moving cables are eliminated.


Much less space is needed, as the system can be designed as a single component. The X and Y axes can operate nearly on the same plane, reducing height. No cable tracks/troughs are needed.


The motors act in parallel on every motion, reducing power needs. This feature can be used in design to improve acceleration, lower mass or size, or lower cost by using smaller motors.



In honor of National Engineers Week, here's a list of our favorite science and technology podcasts for learning something new or even just having a good laugh.

1
Looking to build your own wearable device? Here's a handy guide to all the sensors available to you.
Many of the new adhesives we're featuring in this slideshow are for use in automotive and other transportation applications. The rest of these new products are for a wide variety of applications including aviation, aerospace, electrical motors, electronics, industrial, and semiconductors.

2
23andMe has earned FDA clearance to market one of its home genetics tests, a move that bodes well for healthcare and the broader technology industry.
Engineers throughout the US are in the midst of celebrating Engineers Week. But the celebration extends beyond the country's borders, and even beyond the Earth itself; the crew of the International Space Station joined the festivities, too!

Focus on Fundamentals consists of 45-minute on-line classes that cover a host of technologies. You learn without leaving the comfort of your desk. All classes are taught by subject-matter experts and all are archived. So if you can't attend live, attend at your convenience.