Robotics plays an important part in lab automation and in automated medical device production. In both, their accuracy, repeatability, and reliability can increase throughput and reduce errors that can be associated with manual work. New robots that utilize parallel kinematics can improve performance while often reducing size and lowering cost.
Conventional robot manipulators are serial in design. A Cartesian robot, for example, is made up of individual axes, each with its own bearings, guides, motors, and controls that are stacked on top of each other. This design is easy to design and control but has limitations:
Loads stack up. The X axis has to be built to support the Y and Z axis in addition to the work piece. This can result in significant added mass, which limits acceleration and other performance factors.


Tolerances stack up as well -- backlash, repeatability, and accuracy all add up as more axes are added up.


The system gets more and more complicated and costly, as each axis adds another motor, cabling, and control axis to the system.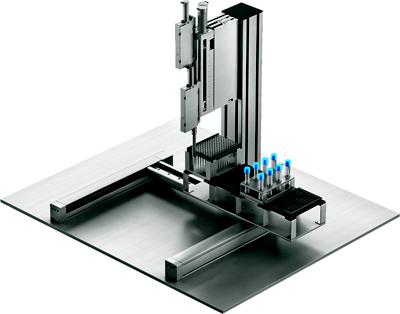 While most obvious in a gantry robot, the same stack up and complexity issues exist in SCARA and articulated robot designs commonly used in automation today. While these designs work well, they can often end up larger and more expensive than they need to be for many automation applications.
Parallel systems can solve many of these problems. In a parallel system, more than one actuator can work each axis of movement. Probably the simplest parallel system in use today is the 2-axis H gantry design. In this design, both motors are static, driving a single belt fastened only to the X/Y carriage. This can offer many advantages over a similar serial design:
Component count is greatly reduced. The system shares a common belt, there is no need to fasten the axes together, and moving cables are eliminated.


Much less space is needed, as the system can be designed as a single component. The X and Y axes can operate nearly on the same plane, reducing height. No cable tracks/troughs are needed.


The motors act in parallel on every motion, reducing power needs. This feature can be used in design to improve acceleration, lower mass or size, or lower cost by using smaller motors.




5
Robots came into their own in the 1970s. Gone were the low-budget black-and-white B movies. Now robots roamed in full-color feature films with A-list actors.

1
The rear window on Ford's Lightweight Concept vehicle, based on the Fusion model, is made with a material combination devised by SABIC that saves 35% of the weight. The car's overall weight is 25% lighter than a standard production 2013 Fusion.

0
Sherlock Ohms highlights stories told by engineers who have used their deductive reasoning and technical prowess to troubleshoot and solve the most perplexing engineering mysteries.

0
There is still time to get in your gadgets for the Design News and Allied Electronics second annual Gadget Freak of the Year contest. The top three gadgeteers will be awarded a total of $10,000.

11
Major global metropolitan areas are implementing a vast number of technology, energy, transportation, and Internet projects to make the metropolis a friendlier, greener, safer, and more sustainable place to be.

Focus on Fundamentals consists of 45-minute on-line classes that cover a host of technologies. You learn without leaving the comfort of your desk. All classes are taught by subject-matter experts and all are archived. So if you can't attend live, attend at your convenience.
Next Class: August 12 - 14