Robotics plays an important part in lab automation and in automated medical device production. In both, their accuracy, repeatability, and reliability can increase throughput and reduce errors that can be associated with manual work. New robots that utilize parallel kinematics can improve performance while often reducing size and lowering cost.
Conventional robot manipulators are serial in design. A Cartesian robot, for example, is made up of individual axes, each with its own bearings, guides, motors, and controls that are stacked on top of each other. This design is easy to design and control but has limitations:
Loads stack up. The X axis has to be built to support the Y and Z axis in addition to the work piece. This can result in significant added mass, which limits acceleration and other performance factors.


Tolerances stack up as well -- backlash, repeatability, and accuracy all add up as more axes are added up.


The system gets more and more complicated and costly, as each axis adds another motor, cabling, and control axis to the system.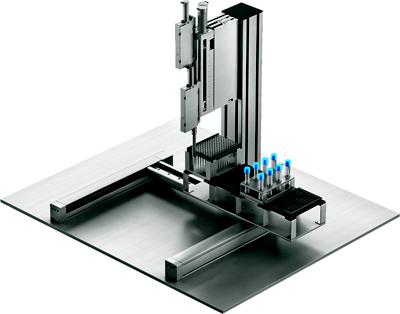 While most obvious in a gantry robot, the same stack up and complexity issues exist in SCARA and articulated robot designs commonly used in automation today. While these designs work well, they can often end up larger and more expensive than they need to be for many automation applications.
Parallel systems can solve many of these problems. In a parallel system, more than one actuator can work each axis of movement. Probably the simplest parallel system in use today is the 2-axis H gantry design. In this design, both motors are static, driving a single belt fastened only to the X/Y carriage. This can offer many advantages over a similar serial design:
Component count is greatly reduced. The system shares a common belt, there is no need to fasten the axes together, and moving cables are eliminated.


Much less space is needed, as the system can be designed as a single component. The X and Y axes can operate nearly on the same plane, reducing height. No cable tracks/troughs are needed.


The motors act in parallel on every motion, reducing power needs. This feature can be used in design to improve acceleration, lower mass or size, or lower cost by using smaller motors.




6
The team at iFixit want to keep you and your home safe. So they tore into Nest Labs' Nest Protect smoke alarm to see what it's made of.

11
An industrial robot known for its safety around humans has been programmed to work a checkout lane and choose how it accomplishes certain tasks.

5
Trends in motion control all converge toward greater efficiency in movement, energy, control, and wiring.

2
In the oil and gas industry, it's paramount that one pays attention to the accuracy of his level and temperature instrumentation, particularly within processing plants.

14
Contributing editor Cabe Atwell developed a Raspberry Pi and Arduino-based remote network fish tank control for his goldfish, Goldie Fishwater.


LATEST ARCHIVED BROADCAST
For industrial control applications, or even a simple assembly line, that machine can go almost 24/7 without a break. But what happens when the task is a little more complex? That's where the "smart" machine would come in. The smart machine is one that has some simple (or complex in some cases) processing capability to be able to adapt to changing conditions. Such machines are suited for a host of applications, including automotive, aerospace, defense, medical, computers and electronics, telecommunications, consumer goods, and so on. This discussion will examine what's possible with smart machines, and what tradeoffs need to be made to implement such a solution.



Datasheets.com Parts Search
185 million searchable parts
(please enter a part number or hit search to begin)