With ULTEM 9085, the commercial aviation industry is beginning to produce finished, end-use production parts via additive manufacturing in certain situations. Typically, this is occurring in low-volume, high-mix manufacturing, which means making low volumes but for a mix of many different products. For example, among manufacturers of business jets, companies must often build 500 jets for 50 different customers. Each customer has its own custom specifications for an aircraft interior's appearance. The additive manufacturing of end-use production parts gives each customer the specialized parts they need, in addition to providing economies of scale. This flexibility to meet the needs of such a wide product mix is starting to catch on within the aviation industry in general.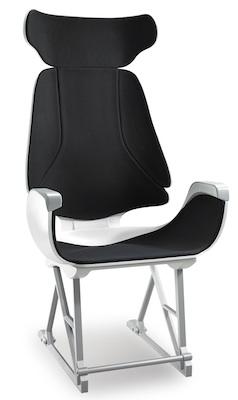 FDM materials such as ULTEM 9085 have two distinct advantages over the traditional materials used in aircraft, such as metal. The first advantage is the fact that the strength-to-weight ratios of these thermoplastics are much higher, since high-performance thermoplastics can yield great strength without added weight. This characteristic is becoming increasingly important. The question that is constantly being asked in the aerospace industry is: How can you go farther with less fuel?
As the industry works to cut costs, it is important for aircraft to be as efficient as possible. FDM materials are very lightweight, which is their second advantage. In fact, a typical metal part is usually twice the weight of its equivalent carbon-reinforced plastic part. This characteristic is crucial in defense applications, where aircraft like unmanned aerial systems (UAS) must meet stringent weight requirements, but are also required to carry heavy payloads. These systems also require rapid, and often frequent, design iterations.
An area of aerospace manufacturing that has really taken off thanks to ULTEM 9085 is the production of finished parts for aircraft cabins, including air grates, panel covers, and other interior parts. Behind all those skins and in the belly of an airplane, each manufacturer subjects many complex systems to special configurations. This affects heating and cooling ducts, power distribution panels, and all kinds of clips and brackets.
One manufacturer that has taken advantage of thermoplastics and additive manufacturing for this purpose is Custom Control Concepts in Seattle. This company is using this combination for environmental control systems, which manage the temperature and the airflow in the plane's cabin. Custom Control Concepts is also using these techniques to customize the in-flight entertainment systems in the aircraft's interior. Another manufacturer, Stuekerjuergen Aerospace of Germany, is a parts supplier to the commercial aircraft industry. This company is learning how to apply additive manufacturing techniques and thermoplastic materials to the manufacture of many aircraft components, including parts in the cabin and also in the cockpit and lavatory.