General Motors is bringing diesel technology back to an American-made compact car by using an air intake technique called "variable swirl."
The technique enables the company's new 2.0-liter diesel engine to generate more power with less fuel, while minimizing nitrogen oxide (NOx) and soot levels. As a result, the Chevy Cruze Diesel's new engine is said to be the cleanest ever produced by GM. It's also the first diesel to be offered in a GM compact car since the 1986 Chevette.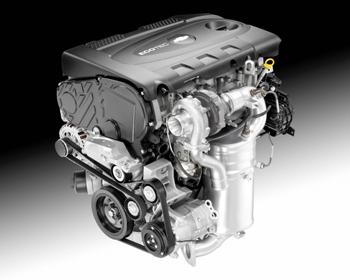 "The Cruze diesel engine, by virtue of its smaller bore configuration, is more in need of a way to make sure the fuel and air mix properly," Mike Siegrist, GM's 2.0-liter turbo diesel assistant chief engineer, told Design News. "That's what the variable swirl does. It mixes the air and fuel more effectively, so optimum combustion occurs."
Variable swirl accomplishes that by employing a throttle valve in the cylinder's air intake port. Under high speeds and high engine loads, the throttle valve is wide open, allowing air to flow freely into the cylinder. But at low speeds and low loads, the valve is partially closed, creating an air velocity differential between the opposing sides of the cylinder. That differential causes a "mixture motion," or swirl, which burns the fuel in a compression-ignited engine more thoroughly.
"It really comes down to the physics," Siegrist told us. "At high speeds and high loads, diesel engines inherently have swirl in the cylinder. But at low speeds and low loads, it's much more difficult to produce swirl, because the energy of the air is greatly reduced."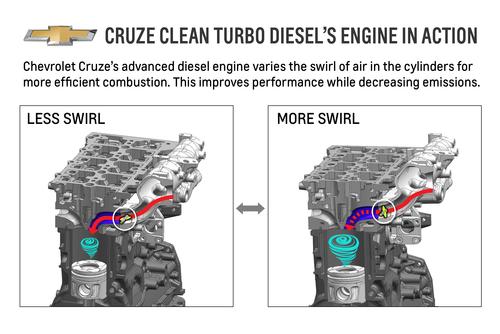 Smaller-bore diesel engines built by competitors (usually in Europe) have used active swirl techniques, Siegrist says. Larger diesel engines for trucks typically haven't needed them, however.
Unlike their spark-ignited counterparts, diesel engines of the past typically ran unthrottled. But cleaner air laws have reduced the allowable amounts of NOx and soot, creating a need for more efficient combustion. "In the old days, if you had too much fuel for the oxygen that was available, the engine made smoke. Today, though, the tail pipe is very clean. You'll never see smoke coming out of a modern-day diesel."
The technology improvements are largely responsible for diesel's popularity in Europe, where it has grabbed about 40 percent of the automotive market, as well as its steadily growing popularity in the US. Diesel car sales in the US are expected to double from 3 percent to 6 percent in the next three years, according to recent market research by Baum and Associates.
GM's new diesel engine, designed at the company's Diesel Center of Excellence in Turin, Italy, will offer a big torque boost to the Chevy Cruze. Instead of the 150 lb-ft of torque offered by the Cruze's gasoline-burning counterpart, the new turbo diesel will provide 258 lb-ft of torque at 2,000 rpm, delivering a fuel efficiency of 46 mpg to the Cruze.
Still, GM expects buyers of the Cruze Diesel to be drawn to its performance, rather than its pure economic advantages. "The Cruze diesel won't be focused on the pure business case," Siegrist told us earlier in 2013. "You're getting a premium product -- a more powerful product -- that still gets great fuel efficiency."
Related posts: