Toshiba has expanded its TMPM36x line of microcontrollers (MCUs) with a memory-rich product designed for real-time applications that must process and store large amounts of data.
Steve Williams, a product manager in the automotive and mixed-signal controllers, analog, and imaging group at Toshiba America Electronic Components, told us in an email that the new TMPM36BF10FG is ideal for energy management and a range of other industrial applications.
"This is an expansion of our TMPM36x lineup, which includes USB, Ethernet, and other advanced communications I/Os, with FLASH memory sizes up to 2Mbytes," he said. "We are targeting the TMPM36BF10FG for real-time energy management applications such as smart meters, M2M communications, inverter control for motors and power supplies, factory and building automation, and PLC applications."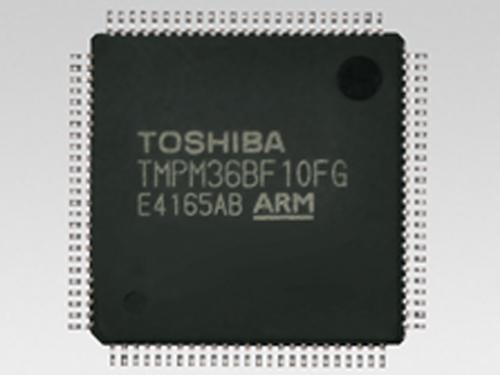 The new MCU is based on an ARM Cortex-M3 CPU core with 1MB Flash ROM and 258KB SRAM, including 2KB of backup memory. The key is not necessarily the amount of SRAM -- more than twice as much as other MCUs in the TMPM36x line and a competitively large amount for MCUs in this class -- but the speed with which applications can access that memory, Williams said.
In real-time systems, the memory access time needs to be predictable, and often this means that both program and data are stored in the SRAM, because the Flash memory requires some housekeeping that can make its access time occasionally longer than normal. So the amount of SRAM limits the size of the real-time software and data. The newest MCU has 4 times the on-chip Flash, and 3.9 times the on-chip SRAM of the previous version (TMPM36BFYFG). Toshiba has other MCUs with 1MB Flash, but this new TMPM36BF10 offers a faster access time that delivers higher performance.
Another differentiating feature is the specialized, multi-purpose timers that optimize the new MCU for controlling power devices like motor applications. This means it can be used in system control applications such as motor control, office automation equipment, and factory automation.
For motor and inverter control… the timers that can generate synchronized multi-phase outputs with dead-time control and external emergency stop control, and an encoder input for Hall sensor-equipped motors. And for high system performance, we have a low-latency interrupt controller, two 32-channel DMA controllers, a multi-layer AMBA interconnect, and an external bus interface for expansion. We also include a real-time clock and a remote control processor for receiving IR remote control codes during low-power standby modes.
The TMPM36BF10FG MCU is pin-compatible with Toshiba's TMPM36BFYFG MCU, which has 256KB Flash and 66KB SRAM. Depending on required memory size, either MCU can be selected for a system without having to redesign the printed circuit board.
Sample pricing for the TMPM36BF10FG is $6 in 1K piece quantity. Toshiba has scheduled mass production of the new MCUs for September.
Related posts: