The cloud computing phenomena has been taking the web by storm by offering a simple and readily accessible way of storing and managing data. With innovative applications that allow users to quickly access, analyze, and edit their files from just about anywhere with an Internet connection, much importance is placed on the performance of web servers that run the show behind the scenes. Thus, processor companies such as AMD and Intel find themselves in a market tussle to deliver the world's best-performing server chips. Intel's Xeon currently leads the way, though AMD has recently announced a plan for the upcoming year to recapture some of the enterprise and data-server market share.
A recent partnership with ARM has engendered a new line of ARM-based server processors that will be available early next year. With ARM's venture into 64-bit software and hardware, AMD acquired a hardware license to begin the production of microserver chips that intend to provide cost-effective, low-power, and high-density chip performance, qualities already inherent to ARM's line of microprocessors.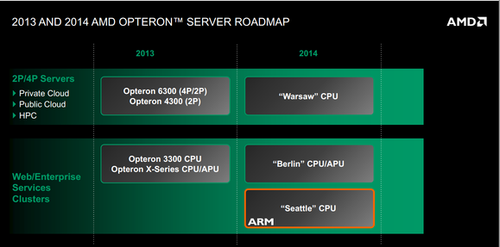 The newly announced "Seattle" chip is first up in AMD's plan to make its presence known in the data server industry. This new core's architecture is based on the ARM Cortex A57 microprocessor. It has all of ARM's microprocessing capability coupled with AMD's own enterprise logic. At speeds greater than 2 GHz, the Seattle chip will perform two to four times faster than AMD's current Opteron X-series chip. The chip will be available in eight- or sixteen-core options, each equipped with 128MB of DRAM. AMD plans to phase out its X-series line with the Seattle in the second half of 2014.
Though not an ARM based unit, AMD has also announced the "Berlin" chip as the new means of achieving incredible server-rack density. The Berlin has an x86 based architecture offered as both a stand-alone CPU or as an APU -- a CPU/GPU combo that delivers accelerated performance. A Heterogeneous System Architecture is integrated to allow uniform memory access to the CPU and GPU on the APU unit. This system also makes the chip easier to code by providing a single programming model for configuring both the CPU and GPU. At a compute-per-watt rate eight times greater than the current AMD Opteron 6386SE, the Berlin plans to outperform its way into the market in early 2014.
The "Warsaw" server chip presents AMD's new offering to the Cloud and Enterprise server market. Specifically designed for its purpose, the Warsaw chip's performance-to-watt ratio brings enterprise ownership costs down, while the chip remains flexible in its implementation. It is backwards compatible with the Opteron 6300 series of two- and four-socket servers. It will be available in 12 or 16 Piledriver core versions. The Warsaw is also part of AMD's Open Compute 3.0 Server initiative, a feature-correct platform that serves to provide low cost, low power, and flexibility for dedicated data markets -- primarily the financial industry.
With its publicly announced road map, AMD appears well prepared for the growing cloud network. Its hopes are set high in gaining some points in server market share. With the introduction of ARM-powered microserver chips, a low-power, cost-effective solution should speak for itself.
Related posts: