A new all-in-one solution from Rohde & Schwarz GmbH & Co. offers a testing environment for audio, video, and multimedia applications ranging from televisions and settop boxes to broadcast receivers and automotive entertainment systems.
The R&S Broadcast Test Center (BTC) consists of a mainframe chassis that can host up to eight functional modules, including a signal generator, analyzer, and test automation system. By packing all the modules into a single box, the system helps manufacturers bring electronic products to market quicker, according to R&S.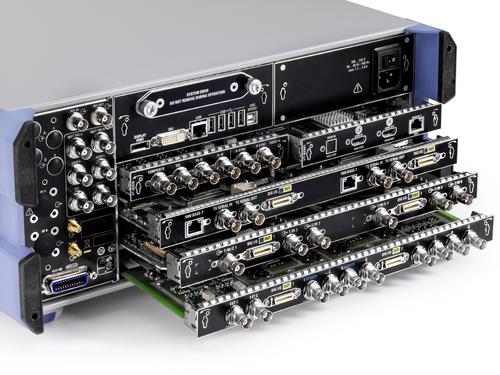 "It optimizes the most complex testing scenarios, thereby accelerating the testing process," Mathias Leutiger, head of product management for broadcasting at R&S, told reporters and analysts in a global video conference last week. "It helps research and quality assurance departments to meet increasing demand for reduction of time to market."
R&S engineers said they foresee the new product being employed for the manufacturing and testing of settop boxes, TV sets, mobile receivers, broadcast chipsets, car radios, and entertainment systems. Professional equipment manufacturers will use it for lower-volume, business-to-business broadcast applications.
The system's signal generator produces RF signals for all global TV and broadcasting standards. It can also internally analyze audio and video functions of devices under test in real-time. Its reference signal generator lets users perform end-to-end tests in real-time over all open-systems interconnection levels.
R&S executives said the BTC will be partially targeted at the consumer electronics industry, where market cycles have been squeezed to just a few months. "Companies are developing new products ever-so-quickly, while at the same time, consumer electronics goods are becoming more and more complex," Leutiger said.
The new product will help test engineers do extensive testing, even within those shortened cycles, he said.
Related posts: