Sales of electric cars and batteries will climb steadily over the next five years, but what happens if government subsidies disappear?
That could be another matter, says a study from Lux Research. The study (cited in yesterday's story) paints an optimistic picture of the lithium-ion battery market over the next five years, but predicts a precipitous drop if tax credits are removed. And the study's author believes that could happen as soon as 2019.
"We are forecasting that the tax credit will disappear for plug-in vehicles around the end of this decade," Cosmin Laslau, author of "Seizing the Shifting Opportunity in the $41 Billion Mobile Energy Storage Market" for Lux Research, told Design News. "And when it does, it will knock the legs out of the mass market and the fleet market."
Indeed, the study shows that sales of plug-in hybrids (PHEVs) and pure electric cars would plunge during the two years after subsidy removal, essentially dropping by a half.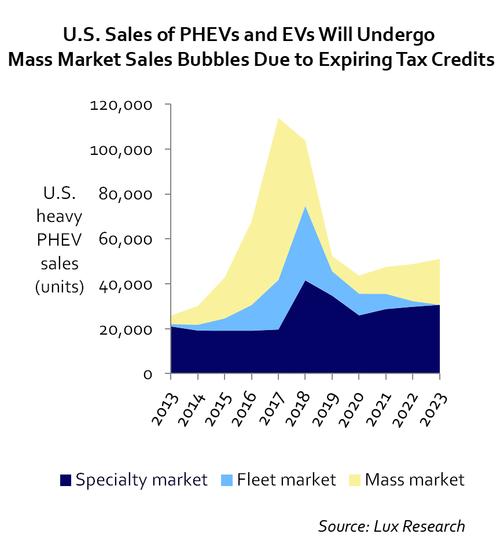 To be sure, no one knows with certainty when the subsidies might disappear. But in the US, each automaker's tax credits are scheduled to end in the second calendar quarter after it reaches 200,000 qualifying vehicles. Whether the subsidies could be lengthened, or shortened by budget constraints, is still unknown. As the market grows, however, it could be more difficult for the federal government to continue.
"As more models become available and keep getting better in range and performance, it's going to drive sales," Laslau told us. "But that will place a bigger and bigger financial burden on the federal government in terms of subsidies."
Today, electric car sales are picking up, in part because of a federal tax credit worth as much as $7,500. Some states -- such as California, Georgia, and Colorado -- are also offering substantial state credits.
Lux's study breaks the EV market into three distinct categories, only two of which would be substantially harmed. The mass market -- those who buy mid-level cars such as the Nissan Leaf or Ford Focus EV -- would feel the loss of subsidies. Similarly, the fleet market -- taxis and rental cars -- would be hurt. The specialty market, which includes early adopters and luxury car buyers, wouldn't see as big a drop in EV sales, however.
"For someone who's buying a Nissan Leaf, the $7,500 tax credit makes a big difference," Laslau told us. "It can bring the price down from the high twenties to the low twenties."
Laslau added that the European market would not be as negatively affected as the US market. The fact that European countries give breaks on registration fees and road taxes would make the situation less volatile, he said.
The loss of subsidies would also be less dire for companies such as Tesla Motors, which makes luxury EVs. "Tesla will make it through this just fine," Laslau said. "If you're a customer spending $80,000 on an EV, then the loss of $7,500 won't sway you much."
Related posts: