Microsoft Windows 8 users soon will be able to directly print to a 3D printer from within the OS, an advancement that is poised to bring 3D printing to the masses.
Autodesk will be the first software company to take advantage of the 3D printer pipeline that will be available in the upcoming Windows 8.1 update release, Camille Caron, Autodesk business development manager, told Design News in an email. Microsoft has said the Windows 8.1 update release is scheduled for general availability later this year.
Once that software is available, users can hit "Ctrl+P" from within Autodesk's 123D family of applications to print designs via a MakerBot desktop or Objet 3D printer connected to Windows. 123D includes the Autodesk 3D Printing Utility, which is currently connected to printer-specific software for these printers. "Essentially, the 3D printing experience will mirror how folks currently print to 2D printers, without the need to go through a printer-specific application, as you have to do today," Caron told us. Autodesk recently demonstrated the technology at the Microsoft Build developer conference in San Francisco.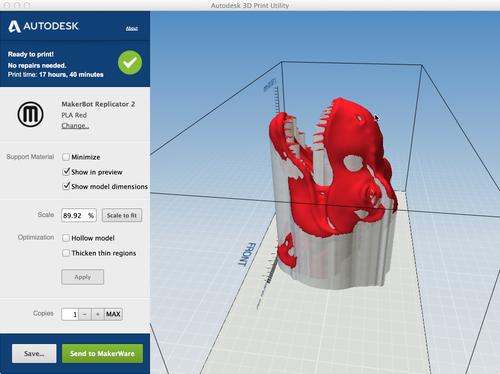 Specifically, to leverage the functionality, someone using 123D Design -- which, like the other 123D apps, is available in a web-based version, as well as on both the PC and Mac platforms -- would open their model within the app. Alternatively, they could open a model from the 123D Gallery app if it wasn't one they originated themselves, she said.
To open the Autodesk 3D Print Utility in 123D Design, a user would select File > 3D Print. This is where the support for direct 3D printing would come into play and make it easy to print a 3D model. "The Autodesk 3D Print Utility performs a geometry check, auto repairs, and optimizes the model to improve the final 3D-printed object," Caron said. "The 3D Print Utility can additionally hollow, adaptively thicken, and re-orient the model for minimum support material requirements, and can provide outputs for popular 3D-printing file formats (.stl, .thing, .amf) if you wish to share the file with others, too."
In addition to 123D Design and 123D Gallery, the functionality also will be available in Autodesk's 123D Catch and 123D Make applications.
Related posts: